White printing on dark textiles
Print on dark textiles with no weeding or cutting with White Toner Transfer
That's how you do it:
Printing and pressing a full-color image or photograph onto a t-shirt using laser printed heat transfers is a simple and inexpensive way for businesses like printers/copiers, t-shirt shops, screen printers and others to decorate all types of garments and promotional items.
Printing on dark garments has always been a challenge.
The White toner printers and White Toners from Ghost remove the last barrier in creativity and design.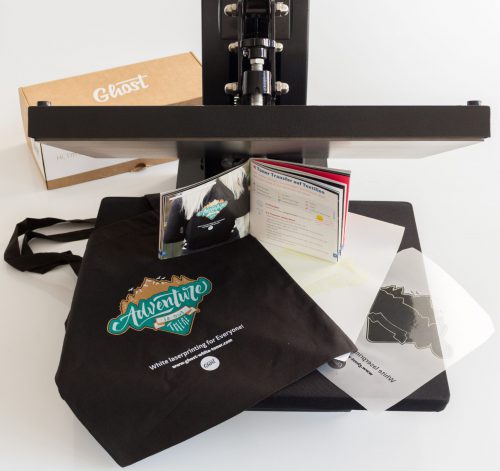 Quick and Easy
For transferring toner to fabrics, you need an A-Foil and the B-Paper. Create your designs with any software of your choice and print a mirror image of your design in white or any other color you like (CMYK) on the A-Foil.
Preheat the transfer press. Place the B-Paper with the coated side facing down on top of the A-Foil. The A-Foil must be placed on the lower plate of the transfer press. The B-Paper can be cut smaller to prevent the press from soiling.
Proceed according to our introduction and separate foil and paper after the pressing procedure. Then place the fabric on the press, position the design, cover the foil with a sheet of baking paper and press it again. And that's it. Let the fabric cool down, then remove the foil slowly and carefully. For achieving a higher washing resistance repeat the pressing procedure. We will provide you with a detailed instruction if requested.
Just give us a call or send us an email.
Ghost does not require any special software. Just use the software you are familiar with (e. g. InDesign) to create your designs. If the White Toner is inserted into your printer, everything displayed in black on your screen will be printed in white. Try out combining white toner with colored CMYK-prints: the results will be amazing.
Great result guaranteed!
Unleash your creativity and print your white designs on colored and even black fabrics. Combine brilliant razor-sharp white prints with vibrant colors – and convince yourself of the amazing results: that's the Ghost effect. If you sell your crafts on an online marketplace: stand out from the mass of sellers and offer your customers unique products with white prints. All you need: a Ghost, a transfer press and transfer foil. You can get all the equipment in our online store.
More about White Toner

Ghost White Toner Transfer for Everyone

Cotton bag with white-colored motif printed and transferred on A-Foil

Design your own colourful t-shirts, hoodies and more with white toner print!

Visit our shop
More about White Toner

Ghost White Toner Transfer for Everyone

Cotton bag with white-colored motif printed and transferred on A-Foil

Design your own colourful t-shirts, hoodies and more with white toner print!

Visit our shop
White Toner Transfer Benefits
All on your side for personalised textile printing
Individual Designs

Create cool must-haves with no limitation. CMYK + White

Expand Your Product Range

Shirts, sweater, leather jackets or bags, no matter what: with Ghost and our transfer foils and papers you can transfer your prints and designs to all kinds of different materials.

Amazing Results

With Ghost you get high-quality prints with a good resistance to washing

Fair & Easy

Low purchase price and easy to operate: that's Ghost!

NO CUTTING NO WEEDING

The times of cutting out transfer foil are over. Get a Ghost and toner transfer will be easy like never before

Time Saving

Ghost makes it easy to produce quickly - that saves you time & money
Start with White Toner Transfer now
Create caps, t-shirts, sweaters, textiles, placemats, and more