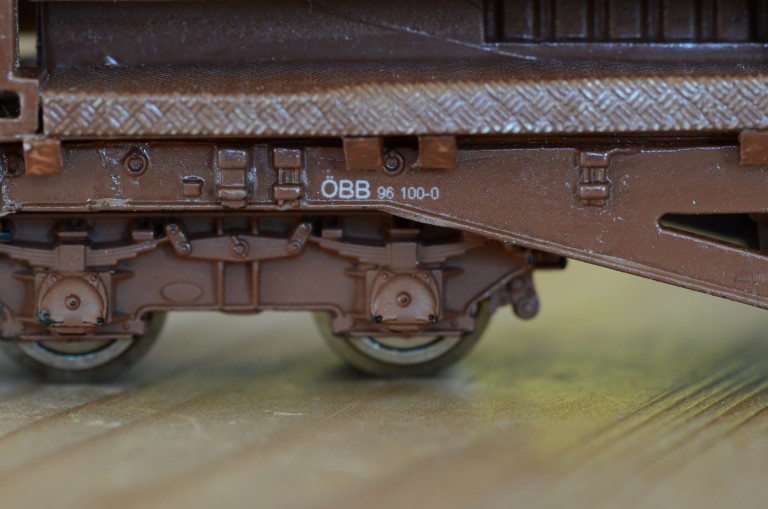 Problem Solved!
No more trouble with transferring white designs to your models.
Ghost is the perfect solution to create models absolutely true to the original. Transfer even the smallest white designs and letters to your models. In the past, it was only possible to transfer colored and black designs to your miniature trains, cars and ships. Those times are over! Get a Ghost and enhance your models with white designs. All the equipment you need, including the decal foils, is available in our online store.
That's How It Works:
Insert the white toner cartridge into your Little Ghost Bundle. Load the paper feed with a decal foil (instead of paper).
Create a file with the desired design using any graphic software of your choice. Please note that everything displayed in black on your screen will be printed in white, when the white toner cartridge is inserted into the printer. Print the design or lettering on the decal foil. Then cut the design out of the foil. For transferring the print to your model, moisten the foil, press it on the model; then remove it carefully and slowly. If you're already familiar to working with decal foil: perfect! Then just get a Ghost and get started. There's no special software required.
Precise and Affordable
With Ghost white toner, the results are amazing. Create vibrant and razor-sharp prints not only in white, but also in black and color. All you need to get started with white laser printing is our Little Ghost Bundle including: The Little Ghost printer, the Ghost White Toner cartridge and one toner cartridge in cyan, magenta, yellow and black each. Additionally, the Little Ghost Bundle includes samples of our exclusive high-quality uncoated and colored papers in A4 (Letter, A). Enhance your models for less than EUR 300. As a comparison: with one white toner cartridge for the Little Ghost you can print 1,600 pages. How much models does that make!
Precise Prints

Razor-sharp prints with a great tactile texture - without tears.

Low Price & Follow-Up Costs

Get the Little Ghost including the Ghost White Toner cartridge (1,600 pages) for les than €300.

Quick

Quick print transfer to your models guaranteed!

More Flexibility

Prints in white, color and black - Ghost can do it!

Easy

Ghost is easy to operate and does not require any special software.

Familiar Procedure

If you are already familiar with decal foil transfer, you know everything you need. Just get a Ghost and get started.
Sample Prints on DECAL Foil
Made for you
Print DECALS at home
Our second starter package for high-quality white printing in A4. Now with integrated WiFi connection. The Bundle comprises: the printer, the Ghost White Toner cartridge as well as the original cartridges in black, cyan, magenta and yellow.

Little Ghost White Toner suitable for HP LaserJet Pro 200 Color M251N/NW/276N/NW. With one cartridge, you can print 1,600 pages with opaque and razor-sharp white prints.