Textile printing
Textile printing is a wide field with a variety of different procedures that can be used. Printing materials are polyester, cotton, mixed fabric and even silk. Unlike printing on paper, you need specific colors and methods depending on the printing technique for textiles.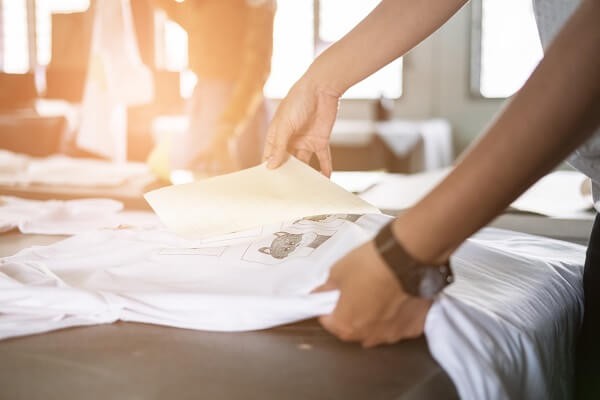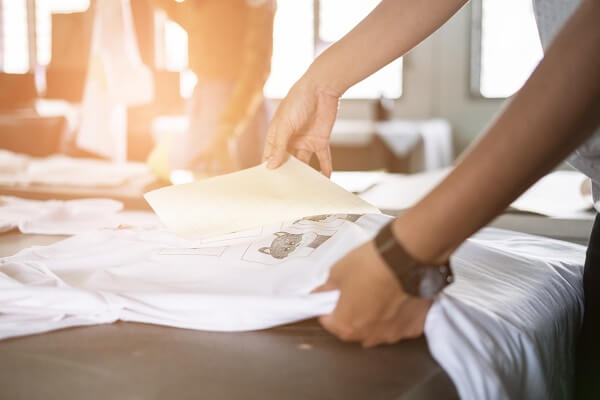 Overview of the technologies
Flex und flock foils/ vinyl cut
With the classical vinyl cut, the desired motif is cut out from vinyl and transferred to the textile. For cutting the motif, a vinyl cutter is used. The next step is weeding the motif, which means getting rid of the parts that are not part of the motif. Depending on how intricate your motif is, this might take some time. After that, you transfer the motif to the fabric using a transfer press.
The different steps explained
Cut motif from vinyl – plotting
Remove excess vinyl – weeding
Transfer motif to fabric – using the transfer press
Due to the reasonable cost for the necessary machine and the low price of the vinyls, the process is ideal for producing small numbers. However, the effort stays the same per finished product as processes like weeding have to be carried out every time. This is why this process is too complicated to produce large numbers of items. If you want to create unique pieces in small quantities, the technique is perfect as well as inexpensive and the results delight with true colors. You choose one color for the printing process (vector graphics), while every additional color has to be adapted, which makes it an elaborate process. This printing technique is ideal for pictograms and logos.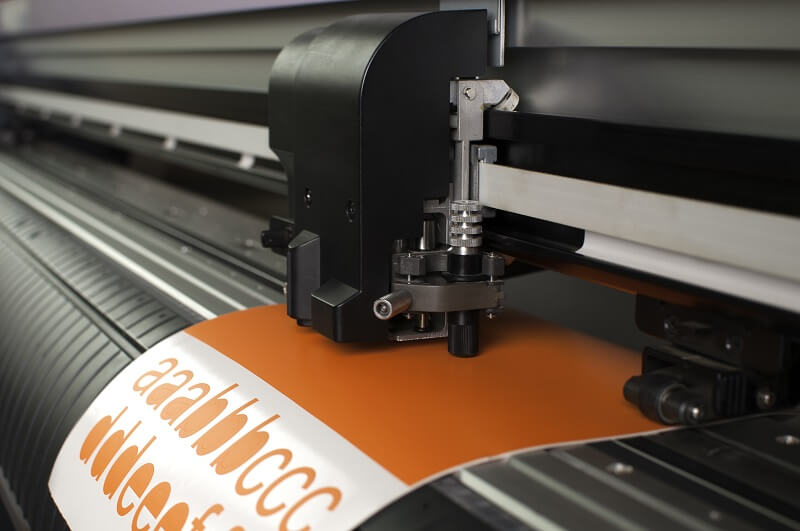 Ghost offers you the innovative possibility to print and transfer multi-colored motifs. Another practical feature is the self-weeding procedure of our special vinyl foils. This way, for a slightly higher price, you get a more flexible system that can be used to create a greater variety of products. The results are very durable and washable. Furthermore, you can find effect vinyls in gold, metallic or glitter to create special motifs.
Laser toner transfer with or without white printing
White printing using toner is Ghost's specialty and opens up a range of new possibilities for toner transferring. This is how laser toner transfer works: special vinyls that have a layer for transferring color to textiles are printed with regular laser printers. Depending on your needs, you can use one foil (one-step transfer paper) or two foils (two-step transfer paper) with the second procedure being longer-lasting.
The one-step transfer system is mostly used for printing on light textiles. In the two step procedure, the motif is applied to a transfer foil that is compressed by so-called b-paper during the printing process of the transfer press. The b-paper consists of a heat-activated glue that combines itself with the a-paper during the process. It only forms a combination with the motif. As opposed to ink cartridges, this toner uses a dry powder that is only activated during the process. After the two papers have combined, they are pulled apart and the a-paper containing the motif is transferred to the desired surface such as a t-shirt or a bag. This printing technique works for light and dark backgrounds as long as you take a few things into consideration.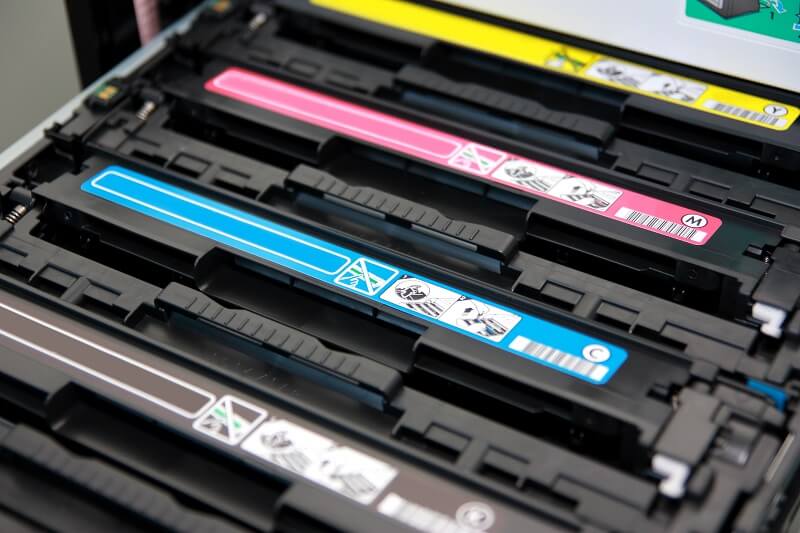 Dark backgrounds can't be used with regular printers like laser printers and regular colors because the color white does not exist in this context. Transferring colors to a black fabric is therefore very difficult. This is where the Ghost white toners come into play: They offer a unique and innovative technology for solving this problem. When printing on dark background, the black toner is substituted for White Toner by Ghost. This way you basically outsmart the laser printer. All black fields on your computer are turned into white when printing. This substituting of a black for a white cartridge is easy and does not require any special cleaning procedures.
The white toner is used for white surfaces and as a base for printing on dark materials to make them strong, true to color and brilliant. If you want to print both white and black areas, you have to change the cartridge in the middle of the process. The a-paper is then inserted into the printer a second time. After printing the colors and the black, in the second part of the printing process white areas and white backgrounds are realized. The motifs are printed back-to-front in order to transfer them in the correct way. The two-paper system creates especially colorfast and washable results after being transferred via transfer press with the right amount of pressure and heat. The right amount depends on the type of material that is used.
RIP-Software
RIP stands for Raster Image Processor and is a type of software, or a package of soft- and hardware that takes care of color management. It calculates the vector graphics and is used for mixing different colors such as mixing black from CMY. It also adapts all other colors depending on the color scheme. It is also used for managing the amount of toner needed and makes it possible to patter a picture. By superimposing a grid on the picture the print area is interrupted which makes the final result smoother and more washable and you also save toner.
Summary of RIP'S functions:
Converting vector graphics into grid graphic with different resolutions
Re-calculating grid graphics
Color management, calculating and adapting
Separating colors by calculating different colors in the pre-print stage
Trapping: Overfill and overprint settings for correcting color transitions and edges for a high-end result
For our Ghost products, you do not need this complicated software: Instead we simply use the system described above, where you only need your regular laser printer that is modified for the Ghost White Toner.
Screen print
Screen print is one of the older printing techniques and leads to an especially durable result that is easily washable and nice to touch. In this process, fine sieves, also called screens, are made with being ink-permeable where the motif is. This way, the motif is printed to the fabric. As you need a screen for each of the CMKY colors, preparing the print is quite cost-intensive so that it is not used for small-scale printing. Starting from a quantity of 100 this procedure is cost-effective and produces great results.
In the first step, a screen is manufactured for the printing form and covered with a fabric. For this, polyester, silk or steel fabric and further materials can be used. In the following the stencil is fitted to the fabric where accuracy is important. This stencil marks the areas where no color is to be applied. The print form that is created this way is installed to the printing machine. After that the color is applied using a special tool called flood bar. As a final step the printed material is left out to dry.
Mesh structure and composition of the fabric play a great role in achieving the final result. Different fabrics need different mesh structures. Other important factors are the type of motif and the thread thickness, where we distinguish monofil and multifil threads, with the first ones being single-thread and the second one being multi-thread. All in all, there is a great variety when it comes to screen printing. Over time the technique has improved in such a way as to create many new possibilities.
There are various examples of application for the creative and artistic fields, however it is mainly used in a professional setting. Depending on the materials, the type of colors is chosen: Especially common are paper, textiles, ceramics and plastic where smaller areas are printed. Screen printing on a larger scale is predominantly used for wood, metal or glass.
Sublimation print
Sublimation printing, which is also called thermal printing, is a printing technology that is specifically designed for printing on light polyester backgrounds. As the color white cannot be represented, you can only use light backgrounds that the motifs are transferred to via sublimation ink tapes or sublimation ink. The prints are sublimated using transfer presses at 160 to 230 degree Celsius. This means that the colors are not simply applied superficially but penetrate the fabric and create a durable and washable result.
The procedure is limited to certain types of polyester fabric or mixed fabric with at least 80% of polyester and heads great results when realizing photo and picture prints. Picture quality is best with inkjet printer where you need special sublimation foils. We at Ghost offer you a great alternative: For our special sublimation toners for HP laser printers only normal printing paper is needed, which is a good way of saving money. In the toner, there is a color powder that becomes gaseous during the printing process of the transfer press. It is then pressed deep into the fabric. This toner alternative is a great solution for saving money and making the process easier.
Examples of its versatile use:
Print textiles/leather:

clothing / fan articles (T-Shirts, sweaters, hats, scarfs etc.)
hand towels
sports articles, gym bags
curtains, covers, banner ads
shoes, flip flops
bags, wallets
bracelet
print plastic or paper:

phone cover
pennants, flags
coffee-to-go cups
coasters
calendars

print metals:

aluminum
key rings
medals
The procedure is especially fast for smaller quantities and offers manifold possibilities. The restriction to polyester is not a problem either as many items are made from this material, from clothes to raw materials in polyester that are manufactured especially for printing. They are used for printing small pictures, photos, logos and more and are mainly used in advertising to personalize products.
Direct-to-garment (DTG) printing
Direct-to-garment printing produces the best results without needing a transfer foil: You print directly to the fabric. For this printing type you need a special cost-intensive printer. Clothes also have to be pre-treated. The printers layer the colors on the fabric by using special pigmented ink that is water-based. All materials are suitable for mixed materials and especially for clothing items made from 100% cotton.
This printing technique is one of the most recent and most modern and has been further developed over the years. However, the necessary steps are very time-consuming if you want to ensure great printing results. This is why holding the textiles in place is as important as the pre-treatment to guarantee the color take-up.
For dark textiles a white base is created on which the colorful motif is printed using the colors cyan, magenta, yellow and black (CYMK). After printing it is fixated using the transfer press. The result is highly washable, with a great level of details and color gradients. This way, photos and photo-realistic prints can also be realized. You can use it for names and other individualizations.
A great disadvantage of this procedure is the high cost of investment and the long production and preparation time. Therefore, using the toner transfer might be a great alternative for embellishing clothes, with very little difference in quality. The many possibilities that the White Toner by Ghost lead to fewer problems when realizing all color options, pattern and motifs.