Little Ghost Bundle Vol. 4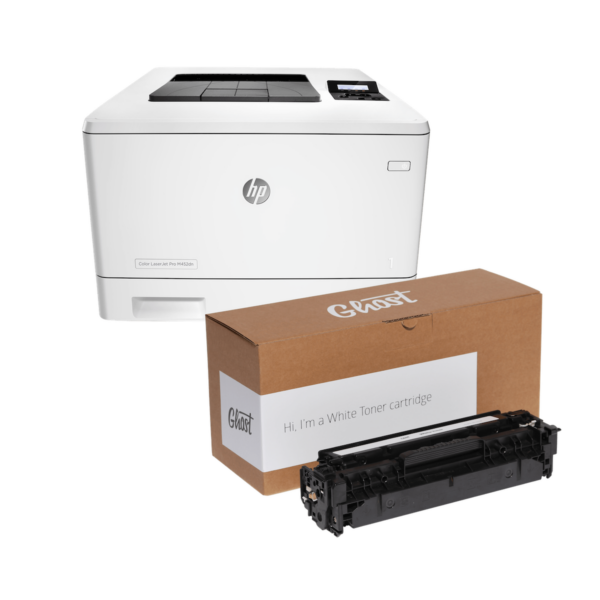 Description
White Toner printing with Little Ghost Bundle is easy and makes this technology accesible for everyone. Explore the possibilities of White Toner printing for transfer to textiles, fabrics and hard surfaces. The HP Color Laserjet M452nw supplied with this Bundle offers great paper handling as well as print speed, WiFi and network connection. Use Ghost to create outstanding printed matters such as invitations, letters, cards and more. Use Toner Transfer to print blanks such as T-Shirts, Bags, Textiles and more.
With this 4.Generation Bundle you can use our most advanced White Toner Printing Solution as well as our brand new Sublimation enabled Sublime Toner Cartdriges. With Sublime Toner you can print your designs on standard Copy Paper and transfer to light polyester sublimation-friendly blanks. Sublime Toner for this Bundle can be found below.
This is in the Bundle:
» HP Color Laserjet M452nw
» Ghost White Toner
» Toner Cyan, Magenta, Yellow, Black
» Instructions
Bundle Ghost Benefits:
» Easy-to-Use White Toner
» Low-Cost Laser
» No Software required
» No cutting, no weeding
White toner printing with our Little Ghost Bundle
Bundles like our White printer Little Ghost Bundle allow us to make you a special offer so that you can acquire a complete package for a very fair price. White toner printing is a revolutionary method since it is easy and quick to handle. Print almost any design on textiles, fabrics and hard surfaces with this technology, as well as in the color white on colored paper, cards or on black and brown Kraft paper. The possibilities with our Ghost White toners are sheer endless.
The core piece of our bundles is a modern laser printer, the HP Color Laserjet M452nw. You can print your motifs, patterns and more ideas on standard paper or request sublimation friendly blanks with powder coating and special sublimation toners as well. First and foremost, however, the product is delivered with white toner, for which a transfer foil is always required in order to transfer the print.
The advantages of the white printer Little Ghost Bundles
Apart from the fast working method and the easy handling, the quality of the results speaks for itself. Working with the high-tech printer from HP is really easy thanks to the extraordinary handling of papers and the high printer speed. You can let the printer work via your home network or via Wifi when printing the different materials and surfaces.
Popular areas of application:
• Printing letters, invitations, postcards and flyers
• Blanks as promotional material
• Textiles like shirts and bags
The list of possibilities is endless, and your imagination alone is the limit when it comes to our White Printer Little Ghost Bundles. The White print with the included White toners is available in this bundle in its fourth generation and we continue improving our products. Users are thrilled by the excellent results due to the sublime toners, respectively the sublime cartridges. Thanks to these toners and this laser printer you don't need special and expensive paper anymore. Instead, use standard copying paper and produce the desired products even on a large scale with it.
The HP printers are suited to print with transfer foil Laser Dark A-foil and the corresponding B-paper. These foils allow a quick and easy transfer onto textiles thanks to white toners. The results on dark surface are also colorfast.
This is part of our White Print Little Ghost Bundle
We bet on HP's printers, since they allow a completely new way of working and are placed in the top segment of the market due to their high reputation. Included in our White Print Little Ghost Bundle is the HP Color Laserjet Printer M452 that prints up to 27 sheets per minute and has a sheet feeding of 850 pieces. Additionally come detailed instructions that explain you all the details for the printer's use. The bundle is completed by the toners – a black toner, our Ghost White Toner and colored toners for magenta, yellow and cyan.
Look out for our periodic offers and promotion campaigns for the bundles in our shop or the starter set like the White Toner Little Ghost Bundle. You can, of course, purchase all our different products as for example the Big Ghost Toner, transfer materials like transfer foils and much more separately in our online shop.
The benefits of our package:
• Very easy handling
• Fair prices
• Immediately operational without special software
• No cutting or weeding necessary
Additional information
| | |
| --- | --- |
| Weight | 26000 g |
| EAN | 4051685135712 |
| Manufacturer | Ghost |
| Printable format | A4 |
| Brand | Ghost |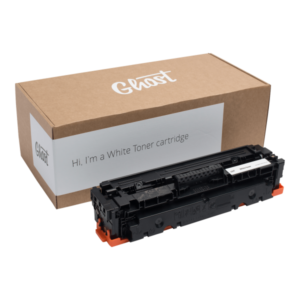 White Toner suitable for HP Color LaserJet Pro M452/DN/DW/NW, MFP M377DW/477FDN/FDW/FNW. With one cartridge, you can print 2300 pages with opaque and razor-sharp white prints.