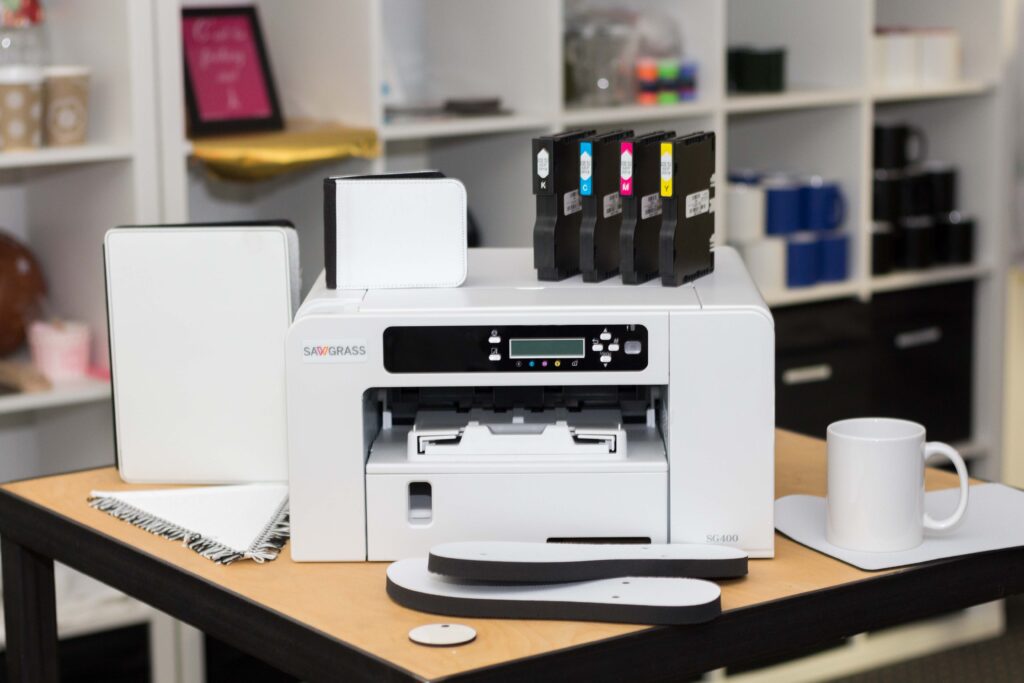 How do sublimation printers work?
Sublimation Printer
Sublimation printing is a printing process for transferring motifs to a variety of materials, for example T-shirts or ceramic mugs, using a carrier material. For this purpose, special sublimation printers and sublimation inks are used.
How does the sublimation printing process work
What does sublimating mean? Chemically, sublimation is the quick conversion of a solid substance into a gaseous state without passing through the liquid state. For conventional sublimation printing with an inkjet printer you need the sublimation ink cartridges as well as costly sublimation paper. Ghost Sublime Toner is used in a standard office laser printer from the brand HP. Thanks to our products, special paper for sublimation printing is no longer necessary: you can just use standard copy paper. The sublimation toner is enabled with sublimation dye so that it can transfer to polyester coated blanks without the need of a special sublimation paper. For this you need transfer presses that use heat transfer at a temperature of 200 degree Celsius. This way, polyester fabric for t-shirts, trousers and sweaters as well as microfiber and other materials adopt the color.
If you want to put your own prints on light t-shirts, sublimation printers lead to the best results as the color is deeply infused into the fabric and not just applied superficially. Our wide range of products offers you all the machines and materials you need.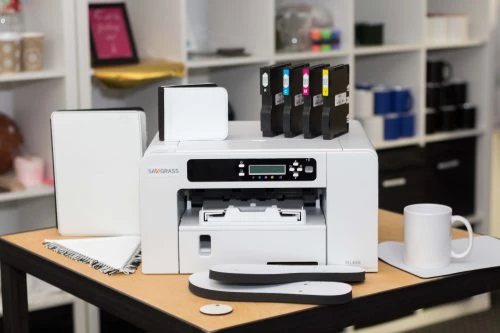 Which printers are suitable as sublimation printers?
Printers suitable for sublimation printing usually work with water-insoluble disperse dyes (i.e. viscous dyes). These are often also called sublimation printers or "subli" printers. Due to the consistency and temperature sensitivity of the ink, special sublimation printers are required. Regular inkjet printers can only be used with special water-based inks. However, changing between normal and special inks is not recommended due to contamination of the print heads and tubes with residues.
Which materials can be printed with sublimation?
The ideal carrier material is polyester, i.e. fabric made of plastic fibres. For optimum printing with sublimation printers, the polyester content should be at least 80%. If other materials such as cotton shirts, ceramic mugs or metal plates are used, they must be coated with polyester – as the paint cannot penetrate sufficiently into these materials, the motif would be short-lived and natural materials such as cotton could burn at high temperatures. Polyester, on the other hand, begins to melt at high temperatures, opening pores in the fabric into which the dye gas enters.  The ideal background colour is white or light. Dyed polyester textiles can only be printed in black.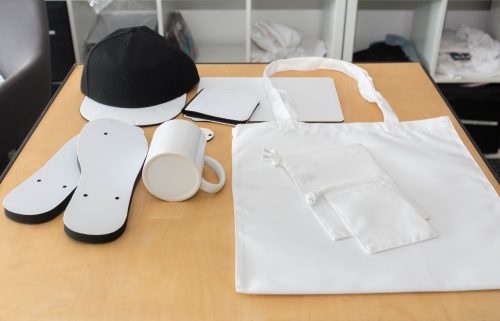 What applications are there for sublimation printers?
There are almost no limits to the application as long as the material is made of polyester or has been coated with it. T-shirts and workwear can be printed with club logos or company names; lanyards, pillows and towels can be personalised as gifts or for guests; as well as signs, mugs, mobile phone sleeves or even a snowboard.
Advantages of sublimation printers
In order to achieve successful printing results, PES materials or materials consisting of at least 80 percent polyester are needed. Furthermore, it is important to choose a light background for printing so that your motives, logos and photos turn out perfectly. There is a great range of blanks available for sublimation prints like cellphone cases, key rings, cups or medals.
Another advantage of sublimation print is its cost-effectiveness and its quickness. This means that you can produce large quantities of products in a short amount of time. Promotional items, little gifts and further products can be produced on stock or on demand for a shop or a singular occasion like an exhibition. With a sublimation printer you have the tool for producing intricate motives in excellent quality.
Disadvantages of sublimation technology
Sublimation printing requires special printers (sublimation printers) and sublimation ink, thus higher costs than many other processes, and the printers also work slowly. Materials other than polyester can only be used to a limited extent if they can be coated, which is not always possible. White colour cannot be printed either, so a white background is necessary if the motif is to contain white or light colours. In addition, a slight shrinkage of 1 – 4 % must be taken into account for sublimation in designs.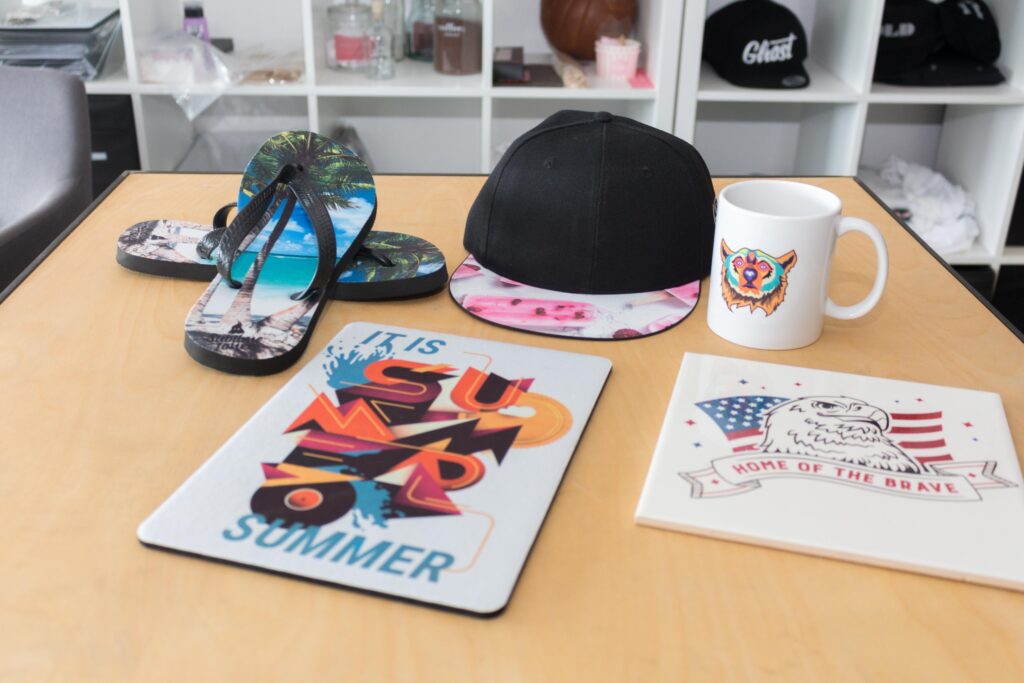 Realize your ideas with a sublimation printer
Modern designs in marketing and other creative fields can be printed on different surfaces. Besides paper, cardboard and other materials, the demand for printing on textiles such as t-shirts and bags is rising. Discover our broad portfolio and find the perfect printer with the needed accessories. Whether you are a hobby artist, or own a small business or agency, with sublimation printers you can realize your printing projects in a professional and fast manner.
For printing on clothes you need sublimation printers that produce the best results on polyester fabrics. Let us explain how the print process works and which possibilities exist.
Sublimation printers, toners and many more from recognized brands
We put our focus on HP printers that are renowned for their high quality and allow the detailed printing of your motives. Apart from paper and foils, we offer you the right toner for HP laser printers. Color choices include all conventional cartridges and toners in black, magenta, yellow and cyan that allow you to use the whole color range and transfer it to your objects.