Toner Transfer News – Print with Laser Tattoo Paper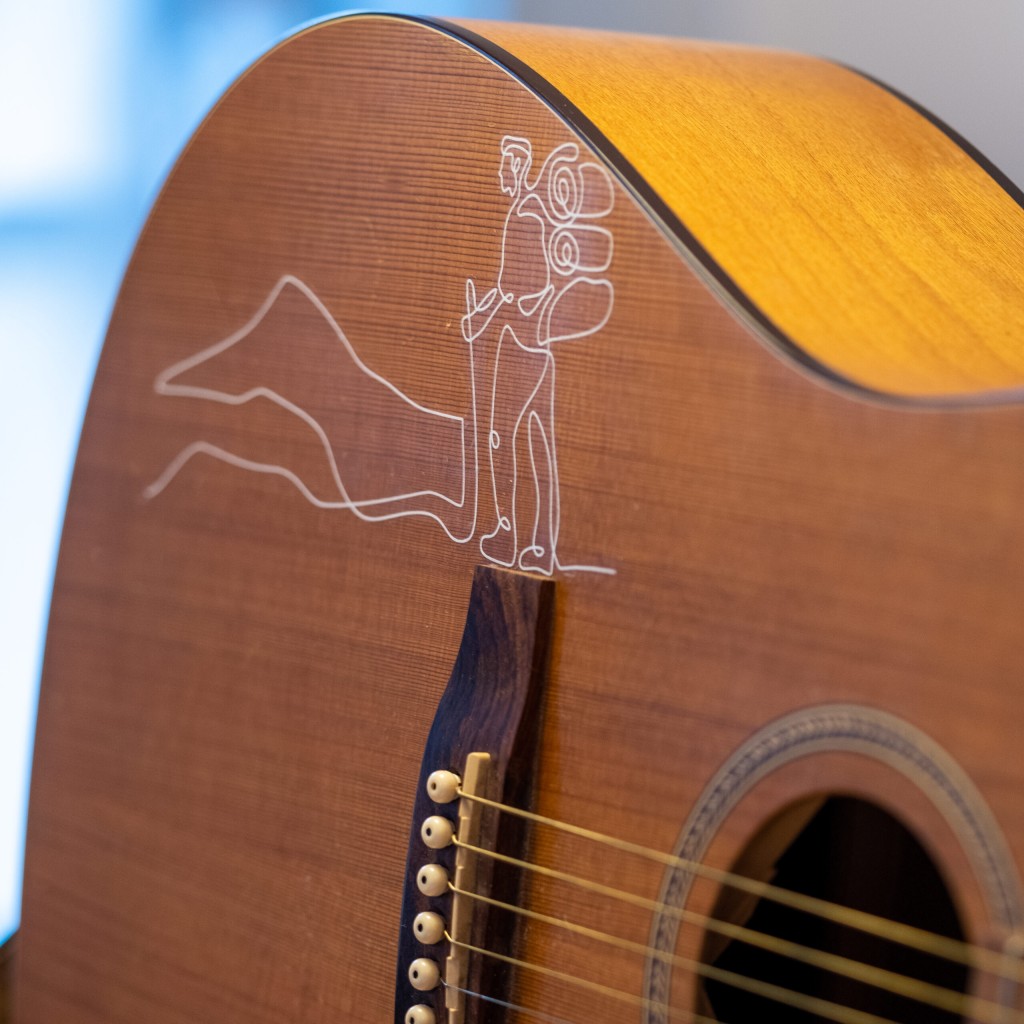 Learn how to use Laser Tattoo Paper to create temporary Tattoos or decorate other items. Laser Tattoo Paper is great in combination with White Toner to achieve good color reproduction. Great for transfer to skin as temporary tattoo as well as for wood, glas, windows, and other items which can't be decorated using a heatpress.
How to use the Laser Tattoo Paper
Start with the right foil
The Laser Tattoo Paper consists of two parts.
a thicker paper with logo on the back for printing with a suitable laser printer
the adhesive transparent foil that must be transferred to the printed part.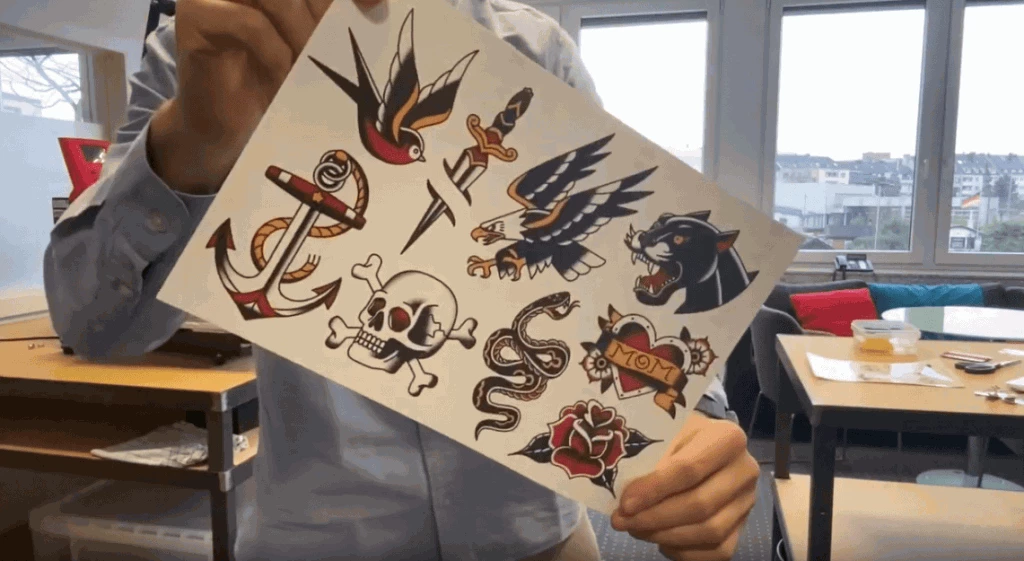 Print your motives on the paper
First you put the thick paper with the logo facing down into your laser printer.
Then you print in any color on the paper using mirror image mode. To achieve best results on skintones print a white underlayer over your colored designs in a second print run with Ghost White Toner.
Choose a heavy setting or for example "HP Brochure Paper high gloss 150 grams" for optimal fixation depending on the printer.
Connect paper and foil
In this step, the printed paper must be joined with the transparent adhesive foil. It is best to start at any corner and roll the foil flat with a scraper to avoid air bubbles. Press firmly so that the adhesive can stick to the whole paper.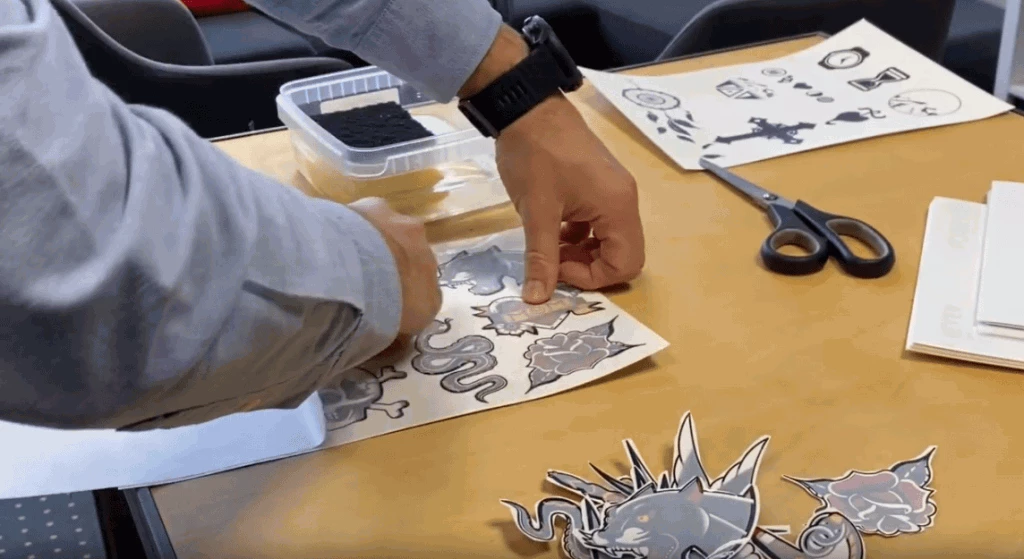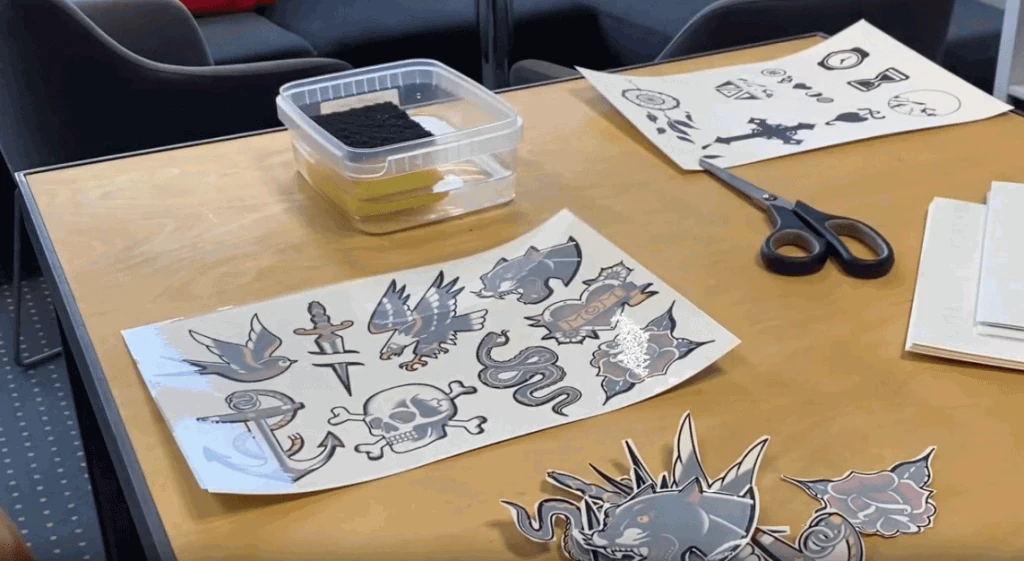 Check the finished Laser Tattoo Paper
If the connection of the foil and the paper was successful and there are no more air bubbles, cutting can be started.
Cutting out the motifs
Cut out your motives as exactly as possible. The rest can be disposed of.
For the next step, make sure you have a sponge or similar and water available.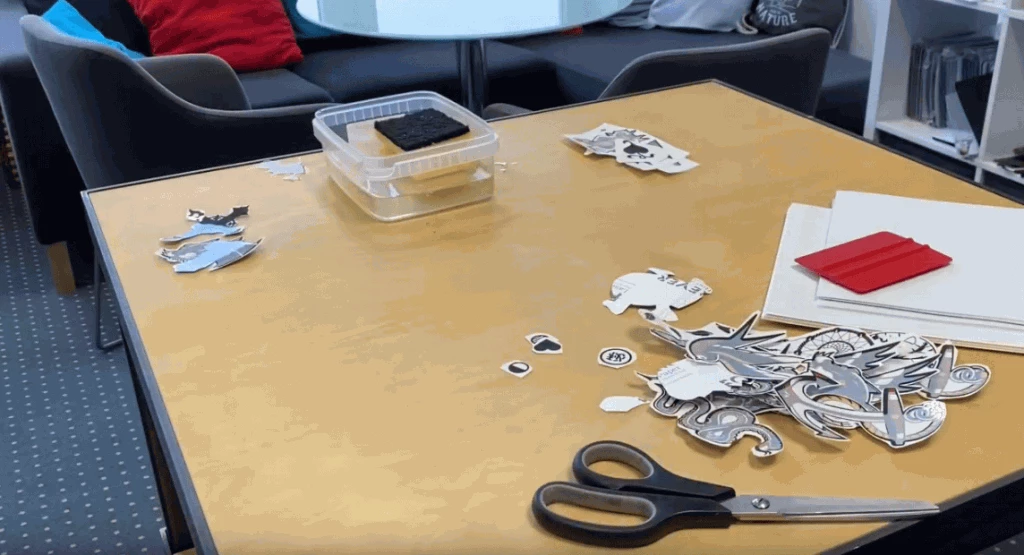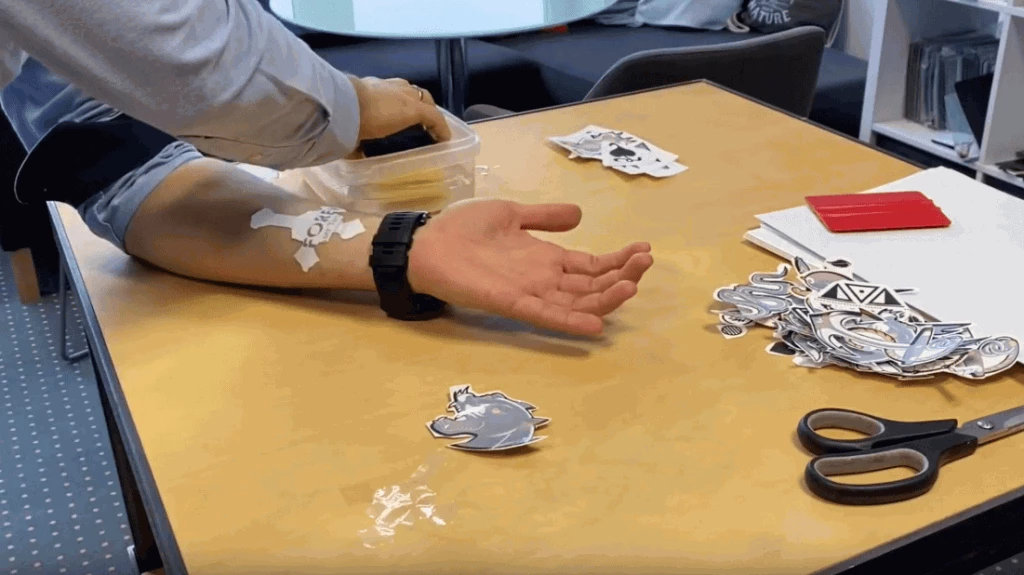 Apply your motif
Now remove the transparent foil again and stick the motif onto any part of your skin.
Put a suitable sponge in a container with water or moisten it well.
Application of the tattoo
Moisten the tattoo on the skin well with the wet sponge and let it take effect for a few seconds.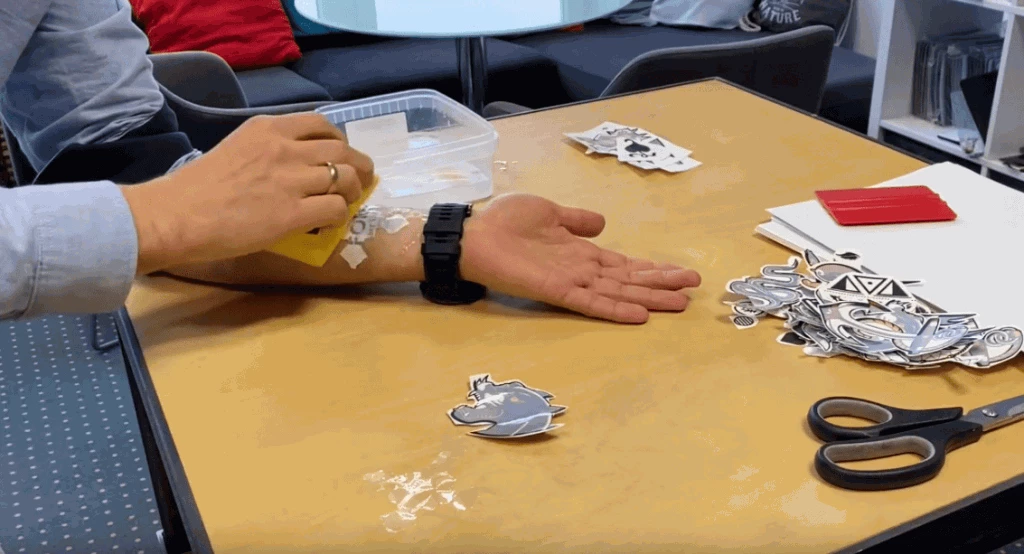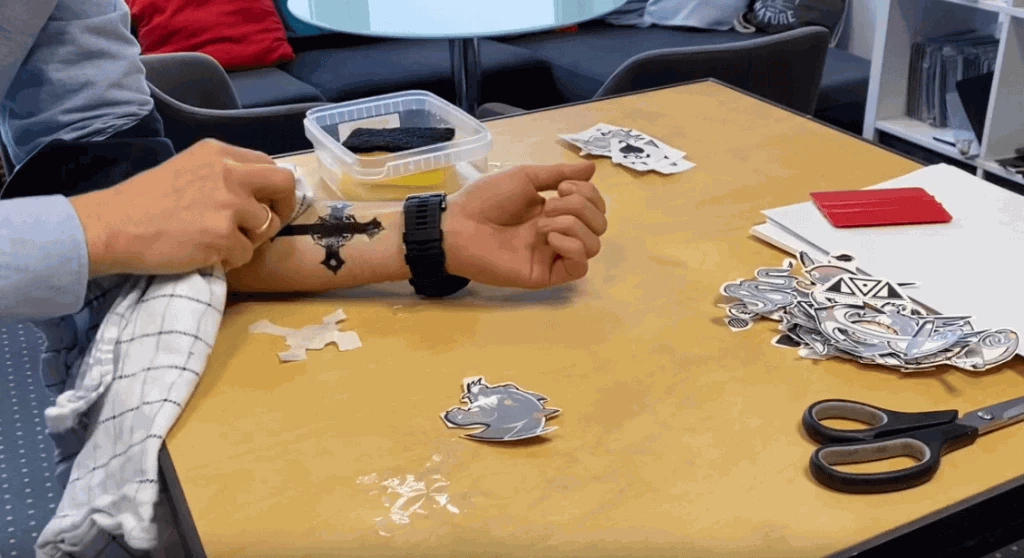 Removing the carrier foil
Now the wet backing foil can be removed directly. In addition, the tattoo can be smoothed a little bit.
Now it is ready and can dry!
The result
After a simple and short process cool tattoos are on the skin.
With a lot of contrast no matter which colors you have chosen.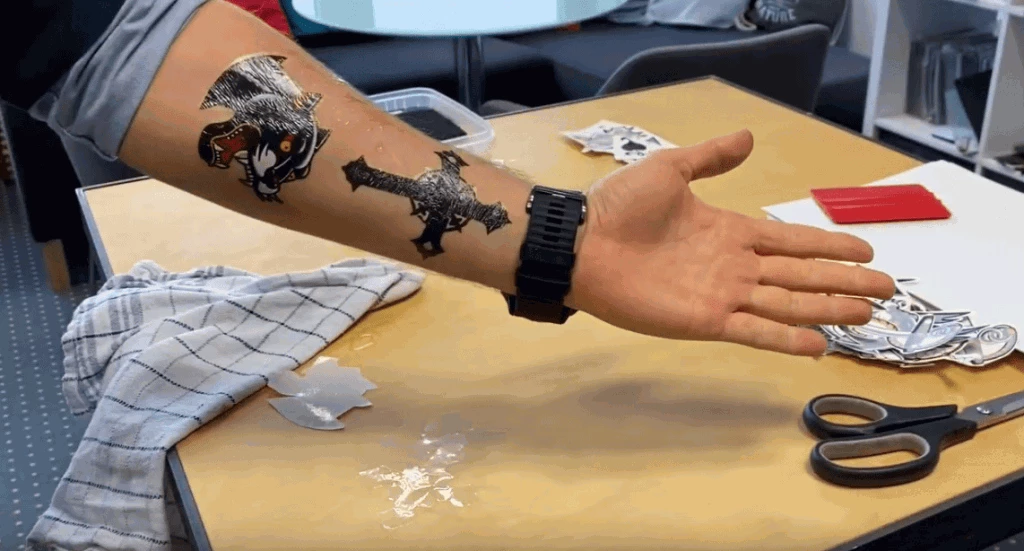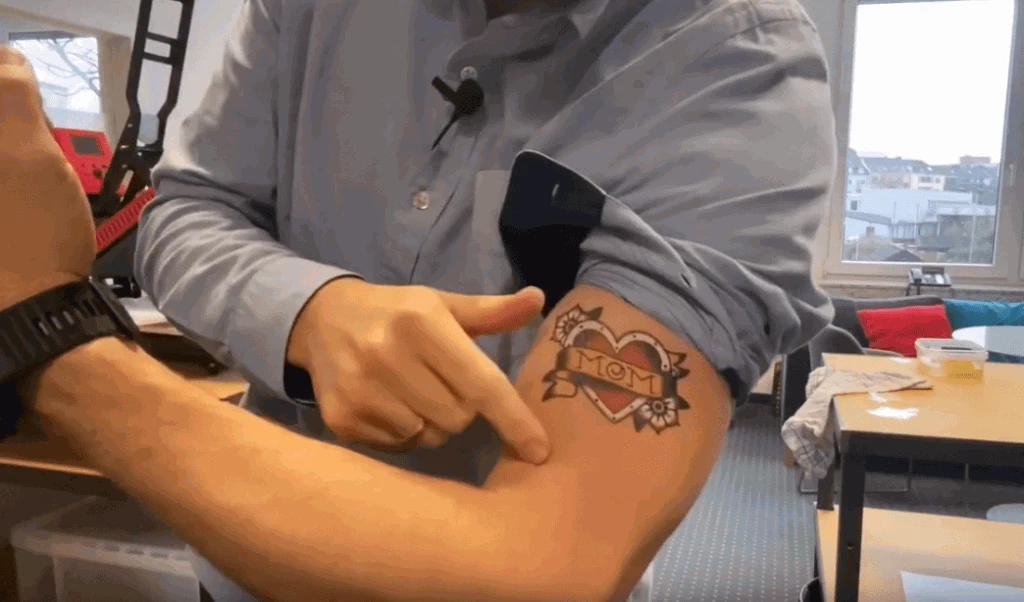 High durability
The tattoos are very durable and last up to several weeks depending on abrasion and cleaning processes.
Everything you need to know about Laser Tattoo Paper

Temporary Tattoos for your event, club, sports or just for fun at home

With laser tattoo paper temporary tattoos can be easily made at home. Laser Tattoo Paper for laser printers works very easily and is safe to use. The results with laser tattoo paper remind you of peel-off tattoos as many people know them from their childhood. With our white toners the brilliant color representation on every skin type is possible.

The process of creating temporary tattoos is explained in this article simply and clearly. Also our YouTube video in English language shows you how to easily print at home. Temporary tattoos printed with the laser printer can be applied on your skin.

Temporary tattoos have many great applications. As a personal goodie for a birthday party, anniversary or festival, or as an advertisement for your brand or product at a sporting event, tattoo foils are easy to apply to the skin. The Tattoo Foil is simply applied to the skin with water and the backing paper is removed. The Tattoo Laser Foil is wafer-thin, transparent and skin-friendly. So tattoos can be easily applied with water on any skin type.

Laser Tattoo Paper is also suitable to apply images, logos, designs or lettering on uneven and sensitive surfaces. Laser Tattoo Paper can be used instead of a sticker on glass for window decoration. Tattoos can also be applied on wood of musical instruments, as very little water is needed.

With Laser Tattoo Paper, schools, day care centers, sports clubs, municipalities, churches or clubs can create cool temporary tattoos for their events and groups. Families can have fun with Tattoo Paper and simply print funny tattoos of their kids' comic book heroes and wear them on their skin.

With Ghost White Toner, brilliant colors are possible on any skin tone. First of all, all colors are printed mirror-inverted on the tattoo paper. Now you change your file to black and white mode (e.g. in Photoshop) and invert it. Now all white areas are black. In a second print run, a white area is then printed into the background with the Ghost White Toner. This way bright colors are backed with white and tattoos will later look brilliant on any skin type.

Even completely white tattoos are possible with Ghost White Toner. Reinvent yourself and your style every day. Decorate your skin and everything else with Tattoo Paper. Tattoo Paper is a lot of fun, easy and incredibly versatile!

Of course, Tattoo Paper works with every laser printer. Temporary tattoos with Laser Tattoo Paper last about 2-14 days. If you want to remove your tattoo you can use adhesive strip or remove it with skin oil. For a special matte look you can rub sunscreen over the tattoo.