Transfer printer – brilliant colors on textiles
Everyone has at least one shirt with a printed-on logo or pattern – may it be the name of one's favorite band or a meaningful or funny slogan. Most likely a hoodie or sweater with a print belongs to the most favorite piece of clothes in your wardrobe. But how does the slogan or pattern get onto the textile? Digital transfer printers are the means of choice. This printing technique ensures brilliant colors and durable since you want to snuggle into your favorite sweater for many years.
But what is transfer printing and how does the process work? Well done, a print on textile done by a transfer printer stays on for many years. And even after many washing cycles the colors remain brilliant and opaque. A well-conducted print with a modern and high-quality printing machine ensures that the printed layer doesn't crumble off but that the surface always stays smooth.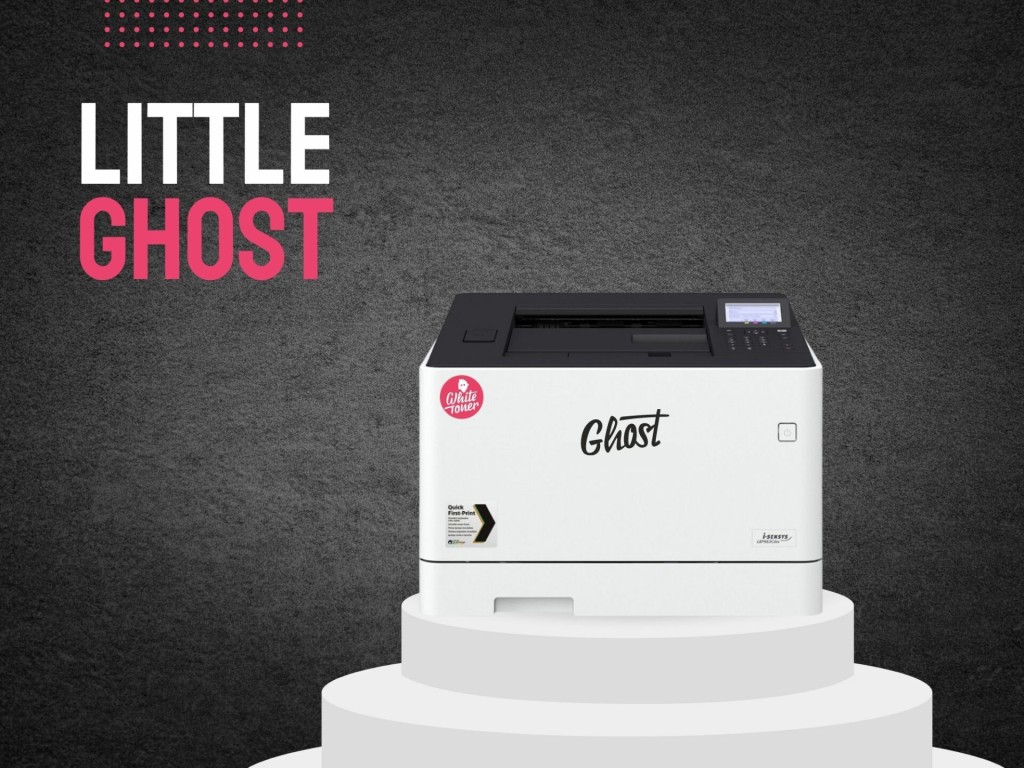 What is a transfer print?
Ghost White Toner is specialized in toners for different printing methods – transfer printing is among those. We know what toner products will bring colors, slogans and patterns onto textiles and other suitable promotional products. No matter if for private use or as presents for clients and customers – transfer prints bring messages into the world.
Transfer printing is an indirect printing method. Meaning: the desired pattern is not directly brought onto the surface. A transfer foil is used as an intermediate step. Simply speaking, the design is mirror-printed onto the foil. This way, when the foil is brought onto the chosen product's surface and the pattern printed on it, the design shows the right way again. Of course, the process is far more complex and differs a little depending on the chosen transfer printing technique. There are different techniques that are based on the basic idea of using an intermediate process step and therefore differ from direct printing and screen printing. The following subcategories belong to the digital transfer printing technique:
toner transfer printing
flex and flock transfer printing
sublimation printing
And this is how the transfer print is conducted
Use a laser color printer to print your desired motif on a transfer foil. In the next step, you apply the motif to the chosen textiles via thermal printing process. This process allows you to create high-resolution designs and photo-realistic motifs. You need the right tools for laser transfer printing: the transfer foil, a laser printer and of course the transfer press.
The transfer foil is also called A-foil and works best in combination with a B-paper. As a laser printer, you can use a simple and affordable model. When choosing a suitable heat press, it is only important to make sure that it has a high pressure setting for best results.
Explained step by step:
You design the image on your computer and mirror it
Print this mirror-inverted image on the transparent or colored A-foil.
Then press the A-foil and the B-paper together
Separate them while they are still hot. This considerably increases the opacity of the motif and eliminates the weeding step.
Last, press the motif onto the textile of your choice using the transfer press.
After cooling the print down, you now have to remove the foil. And that's it, you're done!
The advantages of digital transfer print
Especially for textiles, the use of transfer printers is a good option. Foremostly, because the used colors remain brilliant on textile surfaces even after many washing cycles. But also for non-textile merchandise products a digital transfer print is a good choice, as for ceramics like cups or on metal surfaces like thermo-bottles from stainless-steel.
When it comes to colors, the analog transfer printer can work with up to five colors. The digital transfer printing process on the other hand doesn't have limits regarding the number of usable colors and their intensity. The latter therefore is optimal when choosing a design that requires gradient colors.
For this a transfer printer with White Toner is required. While White Toner used to be available only on very specialized machinery Ghost now offers White Toner Cartridges for many desktop laser printers. If you have an HP or Canon printer it is very likely that you can use it for digital transfer with White Toner by Ghost. The White Toner is used to enhance the color representation on dark substrates as well as the transfer quality.
Another plus regarding the different transfer printing methods are the many printable effects that are possible. Perfect to stay in any client's or customer's mind, because promo-articles printed will stand out from the mass. Or even when just showing off your newest hoodie when walking around the neighborhood – be sure, there will be eyes on you and your printed message.
When carried out professionally and by using high-quality transfer printers and materials, a print is durable for many years. Sunlight, humidity and many washing cycles don't harm. A highlight of the laser printing process is the possibility to print with special white toner on dark textiles. Simply exchange the black toner of your laser printer with a white toner.