Process different surfaces with thermal transfer printer
Thermal transfer printers, and thus thermal transfer printing, are a type of printing that produces long-lasting results. The related generic term thermal printing includes thermal transfer printing, direct thermal printing and sublimation thermal printing. Sublimation printing with laser printers can be realized if you use Ghost Sublime Toner. At this point we will discuss application fields, methods and properties of thermal transfer printing. Ribbons are used when operating thermal transfer printers. They not only print on paper and cardboard, but also on many other materials that take on colour in combination with heat. The printers can be relatively compact and produce small, medium or even large quantities of printed materials.
Mugs, cups, bottles and glasware are popular items as personalized gifts and presents as well as for marketing purposes. Printing small runs of these items with custom designs does not require expensive equipment, nor do you need to be a professional printer. With Ghost White Toner and Ghost Multitrans hard surface transfer media, you can print products like mugs or bottels, glassware and metal right from your home or office. You will just use your standard office laser printer and a Ghost White Toner Cartridge. Swap the black Toner inside your printer for a Ghost White Toner and you can print in white. This video will show you a quick and easy tutorial on how to create your design, print it on Multitrans transfer media, and transfer it to a black mug. By following the instructions in this video, you'll be creating extraordinary products and gifts in no time.
How does the work with a thermal transfer printer work?
In thermal transfer printing, you pass the material to be printed, together with ribbons (black or others), past the thermal print button and computer-controlled heating elements. The material can be, as mentioned, paper, but also plastic and other surfaces. The ink ribbons consist of a foil with ink that is transferred when heat is applied.
With the colour ribbons you have the choice between simple and somewhat cheaper wax colour ribbons for simple transfers on paper and resin colour ribbons. The latter produce results that are particularly durable and resistant to abrasion. The colour materials are ribbons, i.e. rolls that you can only use once. Therefore, the consumable material is relatively expensive.
But one after the other: The thermal transfer printer represents a very durable acquisition and proves to be robustly designed. The operation is simple and the product itself requires little maintenance. You only have to replace the ink rollers after use. With a suitable software you can set which information you want to print. Usually, these are labels and the like that you want to design with thermal printing.
Ink ribbons:
– Wax – for paper/cardboard at low temperatures
– wax/resin – for PVC/polyethylene/polyester/polypropylene, smear and scratch resistant
– Resin materials are optimally prepared against influences at high temperatures
You should always adjust the quality of the ribbons to the material to be processed and the purpose. For paper, wax ribbons are used at low temperatures, while you film labels with special requirements should be processed with resin tapes at comparatively high temperatures.
The colour of the rolls reaches the label at certain points when exposed to the heat and leads to durable, very good results. The colour film is melted and transferred at the points, so to speak. It is located on the material. Here, a difference to other thermal printing processes can also be seen. For example, with dye-sublimation printing the ink works its way into the material, whereas with direct thermal printing you don't use any ink at all and the heat only blacks the paper.
What properties does thermal transfer printing provide and where is it used?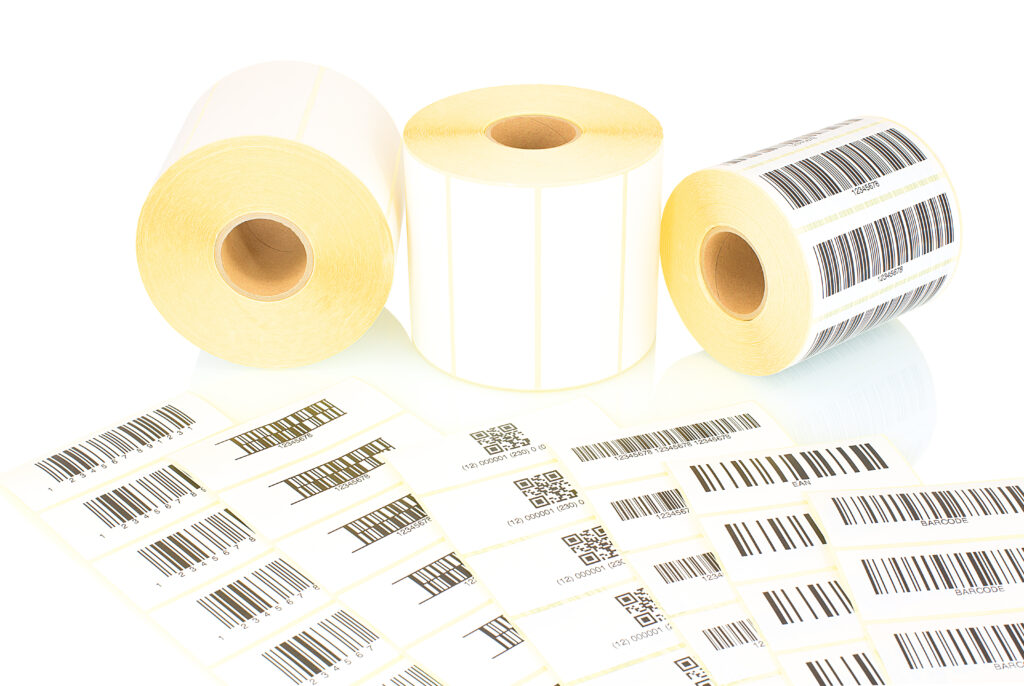 Thermal transfer printers produce labels, among other things. These can be found in a small commercial context, but also on a large scale. A very common and popular application is the production of foil labels and barcodes. It is imperative that these codes remain legible and scannable for a long time, which is why the transfer is extremely high quality. Labelling electrical appliances and other machines with labels is also associated with special challenges.
For example, the results are characterised by the fact that they are insensitive to scratches, liquids and even chemicals. Their valuable information must not be lost and may be important for operational safety. Although the results are also of very good visual quality, creative applications tend not to be the focus of attention. For this purpose, cheaper solutions such as toner transfer with appropriate laser printers and toners for the design of many materials are available.
Thermal transfer printers are often part of industrial robots that mark manufactured products. In automated production processes, they print many different three-dimensional objects. These printers are then part of an assembly and are configured as standard components depending on the application requirements.
---
Photo credits:
boitano – stock.adobe.com
boitano – stock.adobe.com