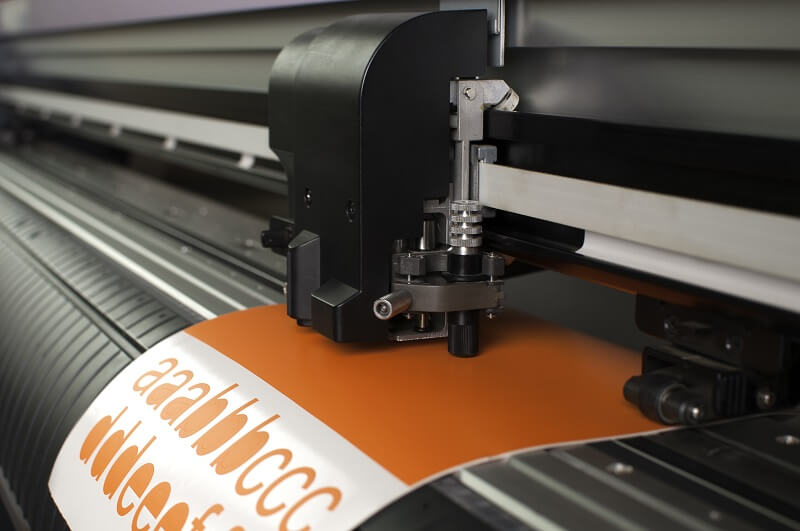 The vinyl print for designing clothes and promotional items
Vinyl printing is one of the different ways of plotting. Vinyl printing can be distinguished very well from flex and flock printing with regard to the material and some details in the transfer. Vinyl foils serve as base material for this type of design and exist in very different versions. Vinyl is a popular material for stickers and in the car industry, where special films are produced using digital printing. Depending on the type, polyvinyl chloride can be extremely resistant and even UV-stable.
At this point we will illuminate vinyl printing for you and go into the properties and method. For vinyl printing, you need a vinyl cut plotter, transfer films and a hot or transfer press. You will find transfer materials and presses in our assortment. The self-adhesive vinyl film you only have to connect and fix with a transfer film to transfer the desired motif or number.
How does vinyl printing work?
At the beginning there is an idea, a pattern, a number or a writing, which you want to cut out of the vinyl foil. There are already some things to consider. Colour transitions or colourful prints are not possible with vinyl printing. You should create the result in one or two colours. Compared to flock printing or flex printing, the weeded motifs are not transferred to the substrate in a mirror image. This means that you can create font and motifs correctly and they will be transferred as they are removed from the vinyl film.
This is followed by plotting, i.e. cutting and scoring the vinyl film. This task is done by modern cutting plotters, which produce the plotted vinyl film with the pattern. You have to weed this pattern before the transfer. Weeding is done manually and can be a very delicate job. If you are doing this for the first time, you will find that it requires some practice. For weeding there are several tools like tweezers, small sharp knives and the like. According to experience, everyone develops their own technique over time.
Popular tools for weeding:
Weeding Hook
Pointed tweezers
Small knives, cutter knives
Seam separator (sewing accessories)
After you have removed the unneeded foil parts, you press a transfer foil on the lettering, logo etc. This lies on the motif and fixes it. Afterwards you remove the vinyl foil from the carrier foil so that the adhesive side is exposed. With this side it comes on the desired underground. This can be T-shirts, hoodies, but also caps or bags. When placing the film, make sure it is at the right height, in the right position and on a clean, smooth surface. For the final transfer you now need the transfer press. Under pressure and heat the motif is transferred onto the fabric.
Fields of application of the Vinylcuts
Sports equipment and sportswear are often chosen as substrates. The vinyl shows positive characteristics both visually and in terms of resistance. Vinyl printing is often used to create back numbers on jerseys for team sports and small logos. However, vinyl prints up to a size of DIN A3 are possible with the appropriate equipment.
The results of vinyl printing can be realized in matt, shiny or even glittering, which also makes it predestined for the embellishment of clothing. Due to the limitation to one or two colours and the surface structure, this kind of print is also suitable for workwear. A company logo can be produced easily and quickly.
Apart from the above-mentioned preparations and work steps, there is no need for complicated measures, which favours the production of small and medium quantities. Depending on requirements, articles can be reproduced or small series adapted to events and happenings, fairs and celebrations can be produced in a short time.
Advantages and disadvantages of vinyl printing
Vinyl printing is one of the techniques in which motifs must be plotted and then weeded. For those who want to do without these laborious work steps in the design of textiles and do not have a cutting plotter at hand, the toner transfer with a laser printer is alternatively recommended. Also with this method, a pattern, image or logo is transferred via transfer press. The prints can be made at home with your own quality printer and suitable ghost toners. Apart from the tedious work and the necessary basic purchases, the limitation to only a few colours is also a disadvantage.
Another advantage of Ghost White Toner and Toner Transfer is that weeding excess material which is error prone and time consuming is no longer needed due to the self-weeding transfer papers. Also multicolour designs and images are no problem with Toner Transfer.
Depending on the type, vinyl prints are quite durable and can be used in the medium term. Larger areas on clothing are not ideal for comfort, as vinyl films are not breathable, but vinyl is an excellent material for stylishly enhancing and accentuating work and sportswear. In the field of advertising, vinyl printing can be used to quickly produce smart designs for different products.