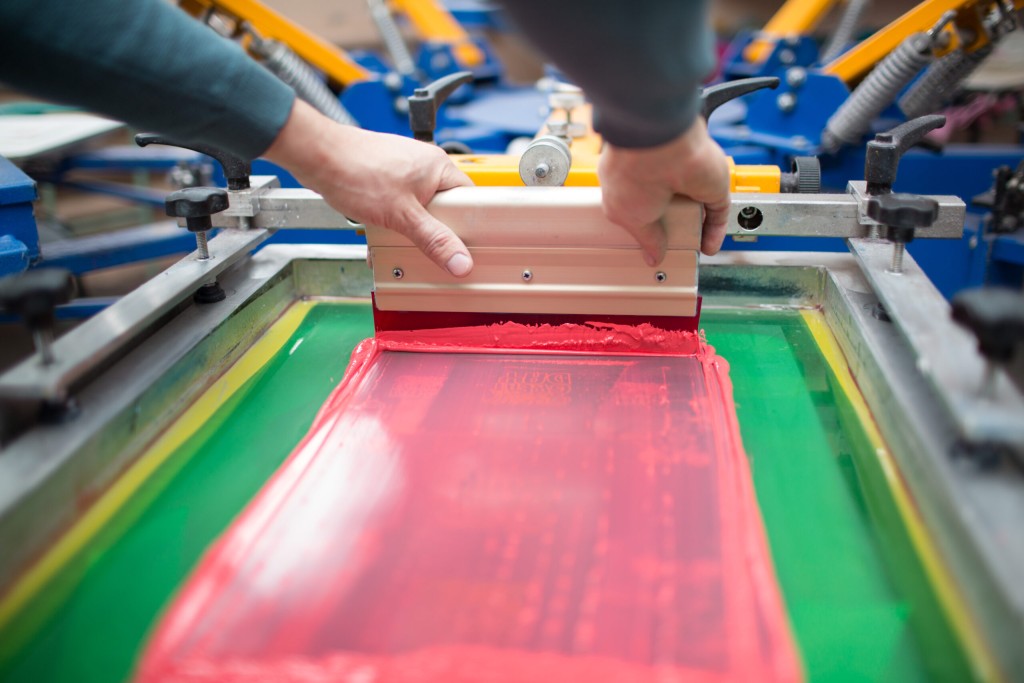 Screen printing as an excellent printing method
Screen printing is much more common in everyday life than you might think. The possibilities of this somewhat more complex process are enormous. With this printing technique textiles can be printed excellently, but also cardboard, paper, canvas and many other things. In the field of art, the technique has increasingly appeared under the name of serigraphy since the 1950s. Many famous works by Pop Art artists such as Andy Warhol and Peter Philips have been produced using the screen printing technique. Screen printing also became known in the Optical-Art style through representatives such as Victor Vasarely and is still used today.
Screen printing on a larger scale requires some tools such as a printing table or even better a screen printing machine. For private use on a smaller scale, however, this is not necessary. With a little practice, you can achieve great small works and learn different techniques in several levels of difficulty. For beginners screen printing with only one colour is recommended. With the modern means of the PC and different graphic programs you can design your own print templates. Adobe Illustrator® is the most popular program for creating motifs and vector graphics.
You create a stencil and with the help of a screen printing frame, which is adapted to the respective fabric to be printed, your motive is transferred. The fabrics can be
very fine,
fine,
rough or
very rough.
First of all, the motif is placed as a black, opaque pattern on a corresponding foil. How the whole process works step by step, you will learn in the following. In addition, we explain further areas of application and possibilities.
How is screen printing prepared?
Before the actual printing process begins, there are a few steps and considerations. As already mentioned, different materials can be used for different fine or coarse fabrics, with which the screen printing frame should be covered. Apart from the fineness or coarseness, the frames are also available in different sizes so that you can choose the right working materials for you.
Basic equipment for screen printing:
Screen printing frame (covered with polyester, fabric type is variable)
adhesive screen tape (for masking the edges)
Exposure film (a kind of foil)
Sieve chemistry:

Photo emulsion o Degreaser
Coating trough
Coater

Colour (screen printing and plastisol colour)
Paint spatula
Exposure system (halogen exposer or UV lamp)
Hand squeegee
The layout of the vector graphics, exact positioning of the desired motif and other details are a matter of practice. With a little patience, logos, lettering and many monochrome motif templates can be easily produced. These are then printed on a foil. The printing itself can be done with different printers, we recommend for the best results modern laser printers from HP and the matching toner. The foils for the exposure of the screen printing frame are black and must be opaque.
Sequence of the screen printing
Now it's finally starting for real! Of course you can reuse the screen printing frame as a central working tool. If you want to prepare a new print with motif, you have to clean the screen printing frame before use. This is done with a so-called degreaser. Then you wash it off and let it dry. If you are using a screen printing frame for the first time, start with the following step immediately.
The first step is to coat the screen printing frame with a light-sensitive photo emulsion. This is done with the help of the coating trough, with which you distribute the emulsion evenly on the screen. The emulsion reacts to UV light. The room should therefore be sparsely lit and no bright light source or sunlight should fall on the frame. As a result, the screen would discolour or remain discoloured at all exposed areas when illuminated. Now the emulsion has to dry a little, a heater nearby can help.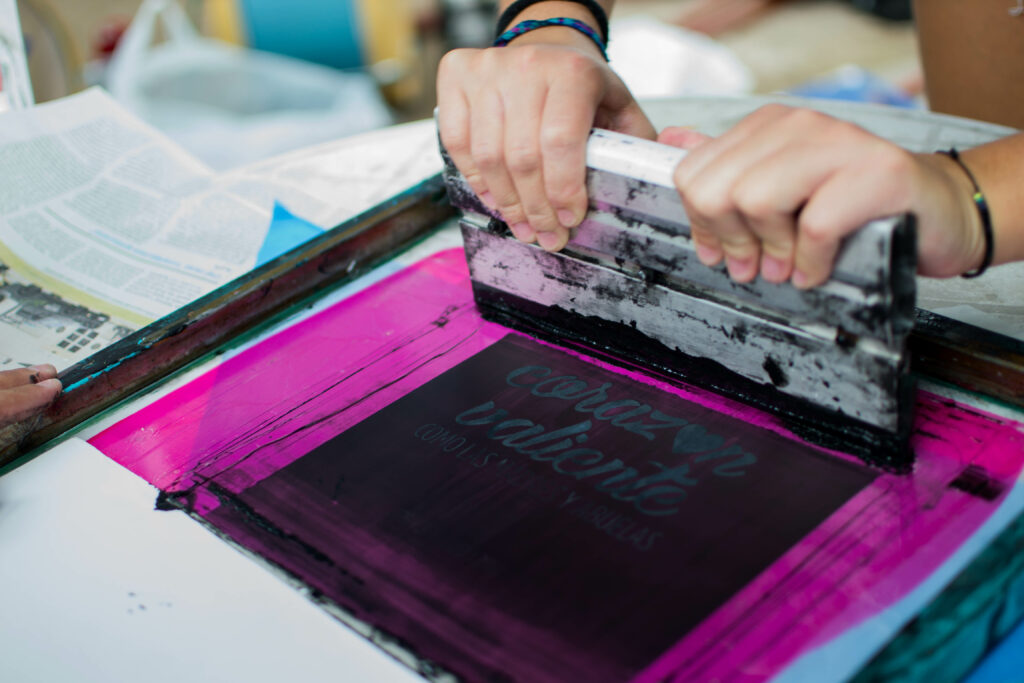 Before the exposure you put the film (exposure film) with the black motif on the screen. So all areas covered by the black toner colour are not exposed! After exposure with the appropriate lighting, you can wash out the screen. Your motif can now be seen on the screen in the unexposed areas and is permeable. So far, so good. The screen with the colour-permeable motif is called a stencil in technical jargon.
Now you can position the T-shirt or another textile on a firm underground. A worktop or a special printing table to fix it in place is the best way to do this. The stencil is only placed on the workpiece to be printed. With a paint spatula you apply the screen printing ink on the screen printing frame. You have to apply it under or over the motif in full width and spread it with the squeegee.
Check once again that the stencil is correctly positioned. In the last step you now press the screen printing ink with the hand squeegee through the screen (stencil) onto the textile. A medium pressure is recommended. Repeat the process to really get all permeable areas with ink and to ensure a good result. Certainly these steps require a little practice, but the results are impressive. You can speed up the drying of the fresh paint either by hanging it up or using a hot air dryer.
Now you have to do a post-treatment, the heat fixation. This is to ensure that the textiles are washable at 30 degrees Celsius and usually even up to 60 degrees Celsius. By applying heat to the motif it bonds with the material and penetrates deep into the fibres. This interlinking is also known as polymerisation and can be easily achieved by the layman with a piece of baking paper and an iron. About three minutes of ironing should be enough for this purpose on the baking paper resting on the motif. Even better would be the use of a transfer press. With it you need less than 60 seconds for the process and you save a lot of time for larger quantities.
Possibilities of screen printing – motifs and materials
In addition to the single-colour process, prints in two, three or even more colours are also possible. For example, a motif can be squeezed and printed in rainbow colours using different screen printing inks applied side by side with a spatula. However, this requires a little more know-how and a certain amount of experience in screen printing.
Today, screen printing is traditionally used to embellish and individualise garments. This does not only apply to T-shirts, but also to sportswear of all kinds, hoodies, gym bags and sacks, as well as jerseys. In Japan, kimonos have been printed in a similar way with vegetable dyes for over 100 years. Furthermore, cloths of different textures and even towels can be produced in this way.
Cartons, paper and canvas are, as mentioned at the beginning, often refined and individualised in art or handicrafts. As advertising prints and gift ideas, high-quality individual pieces or small collections can be created with screen printing, even the serial, professional production of large quantities is possible. Due to the working process described above, especially the production of the stencil/printing block, screen printing is only worthwhile for larger print runs. Also the pre- and post-treatment of the textiles as well as the relatively dirty process of ink application speak for longer runs. Toner transfer, on the other hand, is also suitable for smaller print runs of one piece or more and can also be excellently combined with screen printing. The printing results achieved with Toner Transfer and White Toner are comparable to those achieved with screen printing in terms of feel, wash ability and appearance. Ghost White Toner offers screen printers the possibility to individualize their printing results with Toner Transfer. Thus, for example, names or other components can be subsequently printed on large productions from screen printing. Overprinting of screen printing areas is also possible. Find out more about Ghost White Toner and Toner Transfer in our encyclopaedia article.
---
Photo credtis:
Dirk Lohrbach – stock.adobe.com
primipil – stock.adobe.com