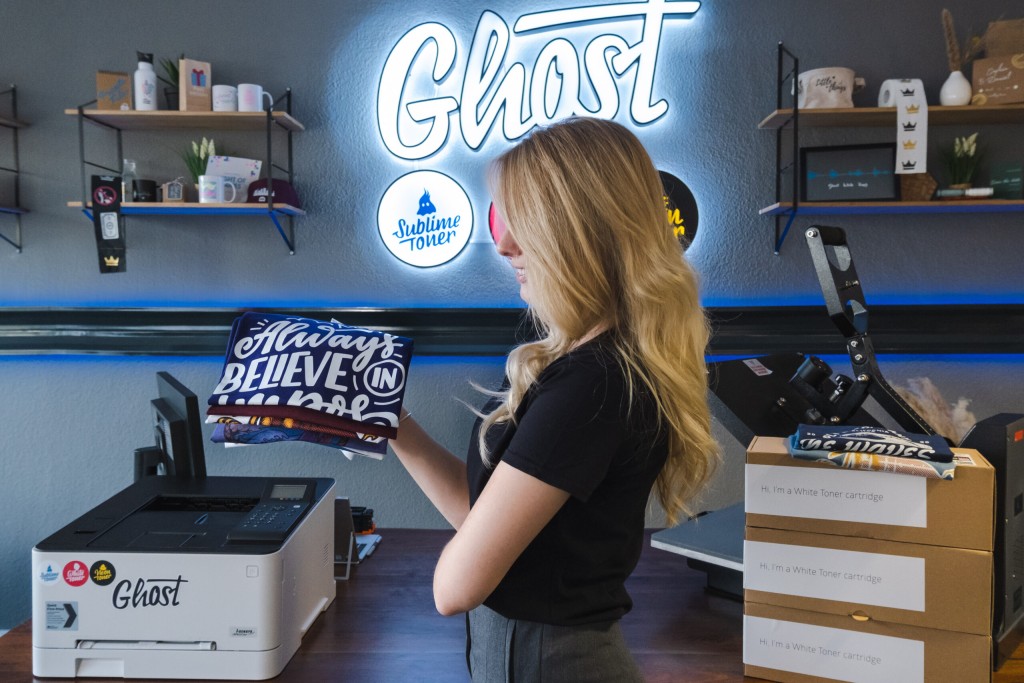 Easy and profitable: build a cool business with Ghost White Toner
The idea of starting and growing an own at-home business sounds very cool. It is a great way of making some extra money, being your own boss with the comfort of doing it all from home. But where to start? How to choose? Have you been toying with this idea of starting a side business? Are you interested in starting your own stationery, custom apparel or merchandise business, but you're not quite ready to take the leap?
We from Ghost White Toner want to take you to the world of toner printing and show you that with Ghost White Toner it is easy, affordable and profitable to start an own custom apparel or merchandise business. Many people have started a small business like that with Ghost White Toner and so can YOU!
Affordable textile printer for business owners
With the development of the COVID-19 pandemic over the past year, more and more people have been looking for a way to earn some extra income in parallel to their jobs. Printing on garments with Ghost White Toner is an affordable way to get started. We make it even easier for you by offering different kind of bundles. Our Ghost Printer Bundle prices are affordable and vary depending on which bundle you choose, shown below.
What do you need to start an own at-home business with a Ghost White Toner?
To get started, you don't need much. First, you need a laser printer with a white toner cartridge. You can buy a printer that is compatible with our Ghost White Toner Cartridges, or you can make it easy on yourself and buy one of our Ghost Printer Bundles. With this equipment, you're already well equipped for your stationary business. Create stunning designs on colored paper with Ghost White Toner and make cards or invitations extra special.
To start making and selling custom apparel or merchandise business, there are just a few more items that you need.
1. Heat Press
The first thing you definitely need is a high-quality heat press. In order for the transfers to adhere properly to garments and hard surfaces, you need a heat press that distributes heat and pressure evenly. Very important to get a good transfer.
2. Transfer Foils
Secondly, you need heat transfer paper suitable for laser printers. There a many transfer papers for different kind of surfaces. This makes it possible to print on almost anything! But make sure that the heat transfer paper you buy, fits to what you are actually transferring.

3. Garments/Substrates
Last but not least, you need the products you want to customize. T-shirts, bags, hoodies, caps, mugs, glasses, keychains, whatever you want. Ghost White Toner opens up possibilities that would not be possible without, such as printing on black or dark colored surfaces.
Can you make money with Ghost White Toner?
The answer is yes!! The low purchase and operating costs could make you get your investment back sooner than you know it! The profit margins depend of course on the design you print and what substrate you print on. But the ability to print on almost anything with the Ghost White Toner system gives you such a wide variety of options, more than enough for a profitable decorating business. You can start easy and quickly expand with Ghost White Toner.
Start quickly. Expand easily.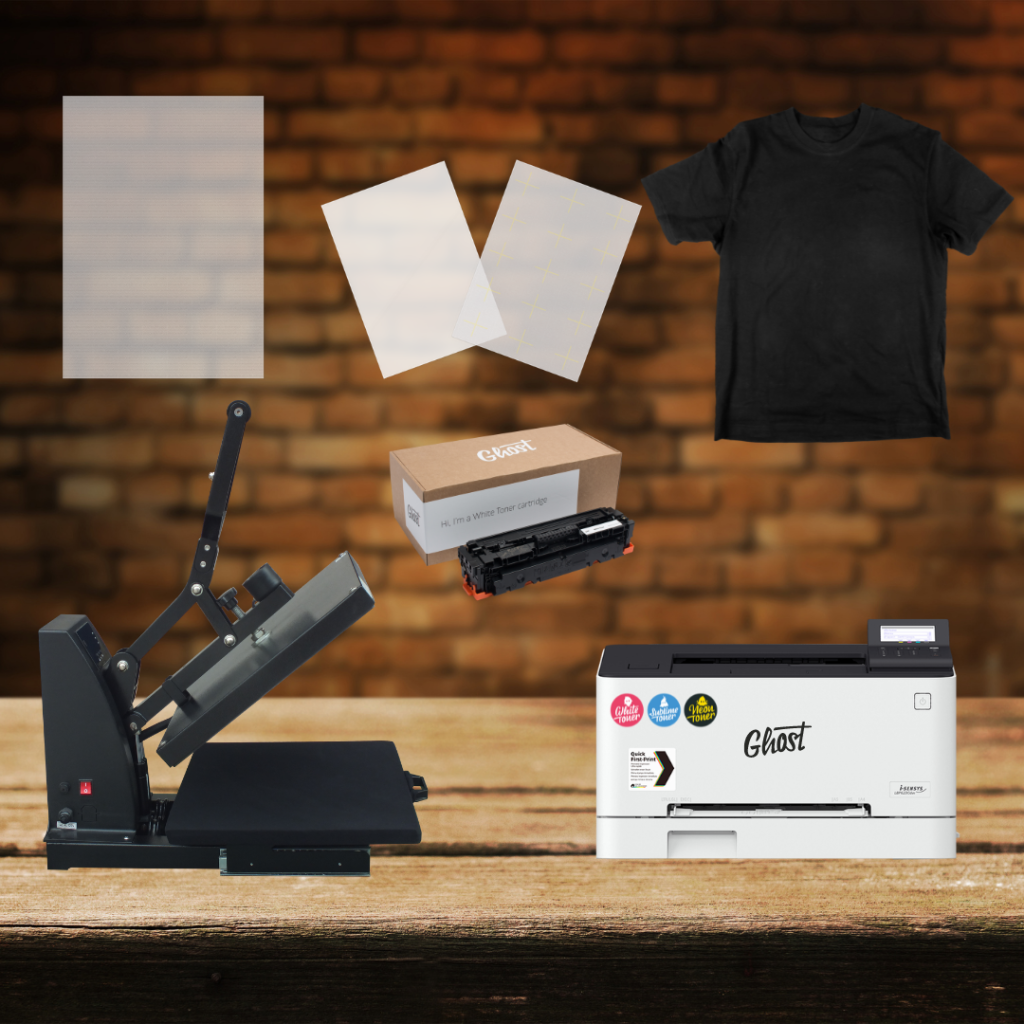 How it Works: Create, Print, Press!
Create your design with any software of your choice, for example Photoshop or Canva and safe it as a PDF file.
Ghost white toner turns any compatible laser printer into a printer that can print white! This means that even printing on dark colored or black substrates is possible with Ghost White Toner. Just print your design with our Ghost White Toner.
How to do this?
Swap your black toner for your white toner.
Create a design and everything that is black in your design will be printed in white. Print
Simply print your design from the PDF-file onto the transfer foil.
Makes sure you have the correct toners in your printer. Swap your black for your white toner to print in white when needed. Press
Press your design onto your substrate with a heat press
Use our different transfer foils and press your design onto almost anything you want! From textiles to hard surfaces. The possibilities are endless.