Heat Presses
Bring your design ideas to life with high-quality transfer presses
Transfer presses for printing on fabrics, polyester, metal, ceramics and further materials in different versions are real heavyweights. We offer those in several sizes so that you can print a variety of materials in many different sizes with prints or patterns in a large number of colors. Our transfer presses are electric and deliver precise results.
The transfer presses transfer patterns and pictures from so-called transfer foils directly to your chosen materials like shopping bags, leather wallets or clothes as sweaters and t-shirts. In the following, you will find a short overview on the setup and functioning of transfer presses. Our product range includes transfer foils and, modern HP laser printers with the accompanying toners and other components for the customization of products with a transfer press.
How does the transfer press work?
As a first step, an inverted picture is printed to a transfer foil using the HP printer. When using Ghost Sublime Toner for sublimation prints, all you need is regular copying paper. Sublimation is a chemical process that directly transforms solid substances into gaseous ones without passing through the liquid state. For this, you need to heat the carrier plate of the transfer press up to 200 degree Celsius. For sublimation print the surface has to be light and needs to consist of polyester fabric. You will find a great variety of design templates for printing t-shirts and other fabrics.
Furthermore, we offer a swing arm press so that you can choose the placement on the fabric more freely. With a contact pressure of up to 1000 kilograms, the gaseous pattern is pressed in the PES material. This way, it is not applied superficially but firmly imprinted in the fabric which leads to high durability. It also does not wash out.
Furthermore, our modern machines enable laser transfer and transfer printing. Additionally, you can use the presses for classical screen printing. You can create mixed colors when using special screen printing colors to print directly on the textiles, where the colors combine to create the desired result.
Transfer printing using a laser printer is especially useful when you want to create very high-quality items with your individual designs. Our Ghost White Toners can be used with laser printers from HP, Canon, Samsung and Lexmark to print individual motives on cups, leather or even silk and felt. Just print your transfer foil and the transfer press takes care of the rest. You can even create fluorescent patterns using our Ghost Neon Toner.
Our transfer presses are available in different sizes with different baseplates. We also offer further baseplates, sliding tables and sub-stages. Directly above the baseplate, you will find a temperature display. The case as well as the handles and the plates are massive and high-quality so that a firm stand is guaranteed. Discover our different types of transfer presses like the one for printing hats.
Who are transfer presses ideal for?
Working with transfer presses requires skill and patience, but can be easily learned and executed by everyone. Especially the quick working speed and the user friendliness make creating medium quantities possible. Due to the versatility and multiple areas of application, these presses are the perfect choice for fashion labels, designers, owners of small shops or agencies. Depending on the number of items produced and other requirements, it is also suitable for hobby craftsmen, model makers and artists. We hope you enjoy working with our products.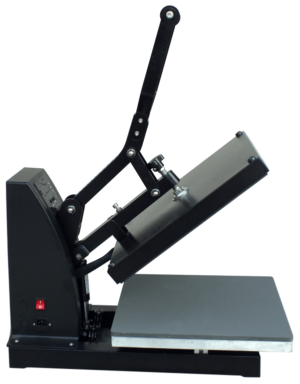 For everyone with medium-sized designs to transfer, the Auto Clam 38 heat press with its 38 x 38 cm coated heat plate is perfect. Use this heat press to apply your unique designs to t-shirts, football shirts, hoodies, bags and an endless variety of textiles and other materials.