Order from anywhere with the new Ghost App
The Ghost App features all our White Toner Cartridges helping you find the right toner for your printer at your fingertips. You can also choose from a wide range of transfer media and heat presses. The Ghost App is the one-stop-shop for your transfer business weather you are new to this indusry or just want to restock on supplies.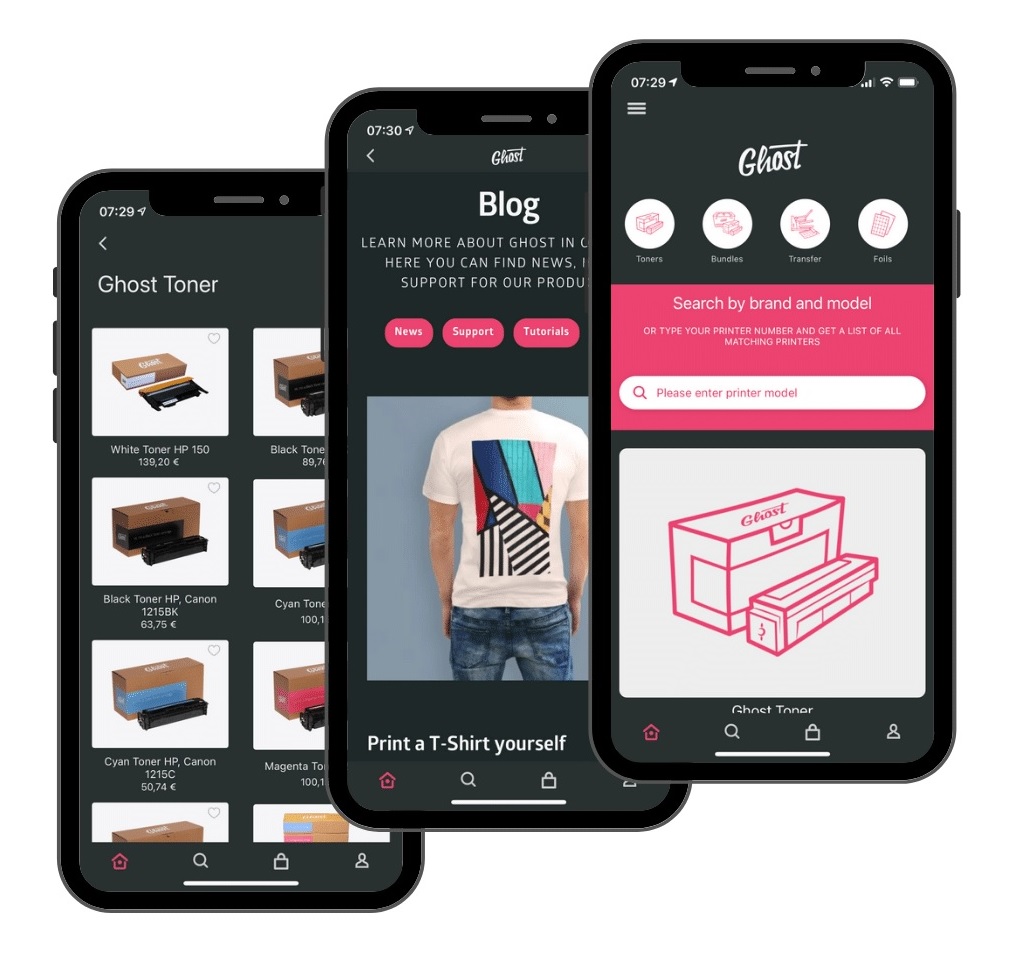 Print ideas in white easily by yourself
With tons of useful help- and support content the App helps you to navigate in the confusing universe of textile and hard surface decoration. Our follow-along video tutorials help beginners getting it right the first time and provide useful tips and tricks for the more experienced user. Dive into the world of Ghost on your phone, today!
Ghost White Toner is the most affordable and easy-to-use White Toner printing solution. Simply exchange the black toner cartridge in your desktop laser printer for a Ghost White Toner cartridge. With Ghost White Toner installed in your printer everything black on the screen will print in crisp and stunning white.
Find the matching white toner for your home or office printer at your fingertips. Use the Toner Finder feature from the App to search over 700 supported printers.
White toner is used in stationery printing to create outstanding cards, invitations, menues, and more using opaque white print on colored or even black paper. Designers are no longer limited to printing in CMYK but can use White Toner to print in white. Our starter bundles can be ordered directly from within this App.
Furthermore White Toner is used in transfer applications on different substrates such as textiles and hard surfaces. White Toner can be used to transfer designs with White and full color onto heat resistant textiles such as cotton, polyester, felt, but also wood, ceramics, metal and other surfaces. This ways almost any product can be decorated with Ghost White Toner and our range of transfer media.
Browse the wide selection of transfer media and White Toner Cartridges on your phone. The app also features help content and product explanations for all different types of transfer media and printing process.
White Toner can be used single pass White and CMY printing as well as in over- and underprinting CMYK + W to increase color vibrancy and ensure correct color reproduction on dark substrates or media.