Sublime Magenta Toner M452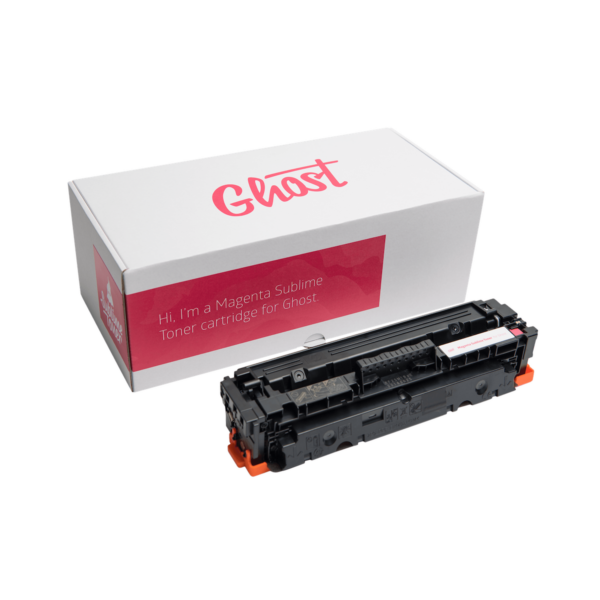 All prices with 19% MwSt. plus shipping cost
Description
Sublime Magenta Toner suitable for HP Color LaserJet Pro M452/DN/DW/NW, MFP M377DW/477FDN/FDW/FNW. With one cartridge, you can print around 2000 pages. Ghost Sublime Toners are special Toner Cartdriges made for transfer to polyester based blanks like T-Shirts, Bags, Textiles and more. You can choose from any sublimation blank in the market. Prints with Ghost Sublime Toner can be transferred without the use of transfer paper. You can simply pint your image or design on regular copy paper and transfer it.
Your Benefits:
» Easy-to-Use Sublimation
» Low-Cost Laser printing
» No Software required
» No Transfer Paper
» Hundreds of blanks available
Ghost Sublime was specially developed for transfer to polyester textiles. Of course, Ghost Sublime can also be transferred to other sublimation-friendly blanks. The colors can deviate strongly from the screen representation, since Ghost Sublime uses no color management software. Ghost Sublime Toner is suitable for logos, vector graphics, cartoons and photos with medium contrast. Ghost Sublime toner is therefore only conditionally suitable for the transfer of skin tones (portraits).
Little Ghost Bundle Vol. 4 + Ghost color toner-Set
Our fourth starter package for high-quality White printing in A4. With integrated WiFi connection. The Bundle comprises the printer incl. HP starter toner (Cyan, Magenta, Yellow, Black) and the Ghost White Toner cartridge. You also get our Ghost colour toner set with Cyan, Magenta, Yellow and Black toner.