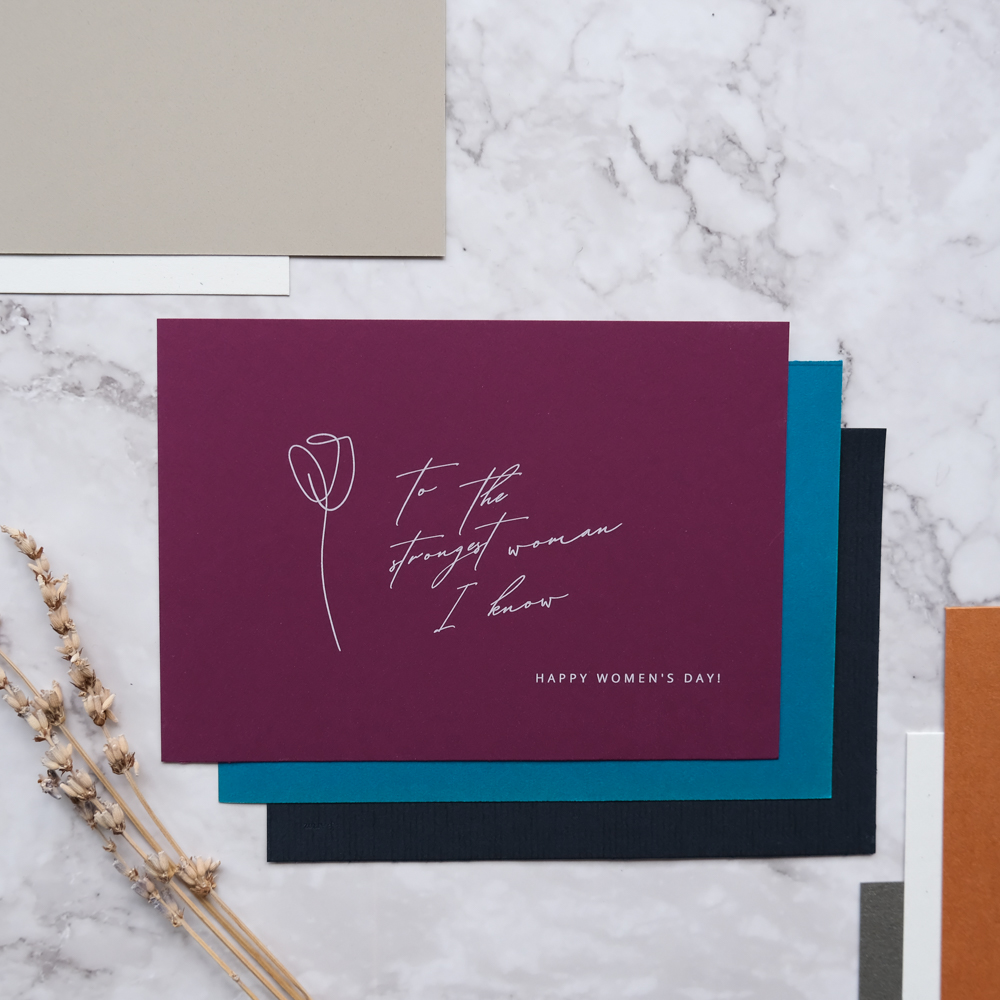 Print your own cards at home
A very individual birthday greeting, a small thank you for a big favor or an invitation: No matter what message you want to say to your favorite people when you print your own greeting cards, you're definitely leaving a lasting impression on the intended receivers.
In this video, we show you how easy it is to print multiptle 300g grammar cards with the Ghost Pro. The Ghost Pro is a CMY + White printer that uses color patterns to blend a composite black and reproduce great colors on colored media. This even makes it possible to print photographic. Start making your own high-quality invitations, greeting cards and many more!
Discover new possibilities
Printing your own cards at home with Ghost White Toner is fun and easy! Your options are endless because now you can choose a custom paper to your preference. You're no longer stuck with white paper just because you have white in your design. With Ghost White Toner, you can easily use colored paper. Because you can simply print your design in white. Whether you want to use blue, red, green, or black paper. With Ghost White Toner, it's all possible.
Pure White Print wherever you want
For the color white, a laser printer normally does not use toner, but leaves a blank space and uses the white color of the paper itself. If you use colored paper, this effect disappears. For this reason, in the past it was not possible to print white on colored paper with a laser printer. Now you can easily do exactly that! Welcome to the world of Ghost White Toner. Standard laser printer, black toner out, white toner in, done. The compatible laser printer will think it's printing normal black. But, everything 100% black in your design will then print in pure white.
Easy change from black to white
Our Ghost White toner produces sharp and clear white printing. Simply with your laser printer at home. Just take your Ghost White Toner and replace your black toner. There's no need to clean the laser printer. The printer does that itself. It calibrates itself briefly and is then ready for usage. So, you can switch back to black at any time.
Create a targeted file
There is one important detail when you print cards with Ghost White toner at home. When creating your design, keep the following in mind: All the white elements of the design that you want in the result, you have to create in 100% black. Besides, you can give free rein to your creativity.
Get inspired
Think of all the possible cards you could print yourself at home. There are so many different cards. The choice of themes is limitless. There are so many categories and so many different designs. It doesn't just have to be cards for festive occasions like Christmas or Easter. Think, for example, of the areas: Thank you notes, congratulations, love and partnership, apologies, get well wishes and many more! If you print them yourself at home, you can decide how to make your cards. When you print your own cards, you can decide how you want to make them. Romantic, nostalgic, fun, sweet or formal. Either way, with the fresh and bright white printing of Ghost White Toner, you can achieve a stunning and high-quality look on colored paper. A true one-of-a-kind.
The White Toner from Ghost is perfect for you if you want to give free rein to your creativity. And not only if you want to print greeting cards from home. But think beyond that, like self-printing menu cards, business cards and more. Ghost has white toners for over 700 different printer models like HP, Canon, or Oki. So, there's bound to be one for your printer!