Textile Printing Wiki
In the field of modern printing of textiles & Co. there are different types, which are partly improved by technical innovations. In the following three of the most common processes from the field of transfer printing are presented. These transfer processes complement digital direct printing and the popular screen printing.
Depending on the system, transfer printing involves working with carrier media, so-called transfer foils and the transfer presses. In transfer printing, for example, we speak of a one-step system or a two-step system. Depending on which method is used, different things have to be considered. We introduce you to toner transfer printing, flex and flock transfer printing and sublimation printing to give you a brief overview.
Learn more about the printing process:
---
The transfer printing process Toner transfer with and without white printing
In the field of digital transfer printing, various subcategories can be identified. In addition to toner transfer, which will be the focus here, there are also classic ink-based printing processes and special solvent printing is used for vinyl carriers. Toner transfer is a particularly smart method that can be carried out quickly and inexpensively. The possibilities here range from transferring colourful motifs to white areas on dark backgrounds thanks to the special white toners from Ghost.
As a 2-paper system, the procedure is as follows: The desired motif is created on the PC and printed mirror-inverted on a transfer foil (A-Foil) using laser printing, for example with HP printers. In a second step, this foil is pressed together with a B-paper (B-Foil) under great heat and pressure in a transfer press. This causes a heat-active adhesive of the B-paper to bond with the motif, the toner and the A-foil. The adhesive therefore only adheres to the desired surface after the two papers have been pulled apart. Now the final transfer to a textile (bag, T-shirt, hoodie) can be done by means of A-foil in the transfer press.
So far, so simple. The transfer to dark backgrounds, on the other hand, is difficult because the colour white is not really existent in the true sense of the word and simply cannot be transferred with inkjet printers, for example. However, laser printers work with toners that contain a powder instead of ink. These toners can be replaced without cleaning and without major inconvenience. This allows us to use a little trick by replacing black toners in laser printing with Ghost White Toners.
When creating the desired white areas, you just have to make sure that they are created as black areas in the PC, because the computer assumes that the black areas will also be printed in black. This sounds more complicated than it is, because after printing these areas in white colour as planned. The white toners are also ideal for underprinting coloured areas to enhance their luminosity.
Flex and flock transfer printing as transfer printing process for simple motifs and lettering
The process for flex printing is slightly different from that for toner transfer. Instead of transfer foils, inexpensive flex foils are used in this process. The vector graphics are not printed in the classical sense, but are cut or scored by a vinyl cutter. Normally, this is followed by a manual work step, which makes the production of larger runs difficult. This is the so-called weeding process, in which the excess material is removed.
With Ghost Flex Soft (no-cut) you can buy films in different colours and designs that have self-weeding properties. The cut-out motifs are then placed on the carrier material and can be applied with the transfer press. The areas are kept rather small, as the films do not allow for breathability and larger areas could crease. Because there are no colour gradients and rather few colours are used, this method is very popular for logos, lettering or even pictograms. Besides normal colours, special glossy or metallic effects are also conceivable.
Sublimation printing as a particularly long-lasting result of transfer printing
Sublimation printing, actually thermal sublimation printing, refers to a process that describes the following process: Sublimation is the direct transition from a solid to a gaseous state and vice versa. The solid ink from a special cartridge or toner (powder) is evaporated in gaseous form into the carrier material by means of great heat and pressure. In this way, particularly good and long-lasting results are obtained. However, sublimation printing is limited to use with polyester or mixed fabric with 80% polyester content.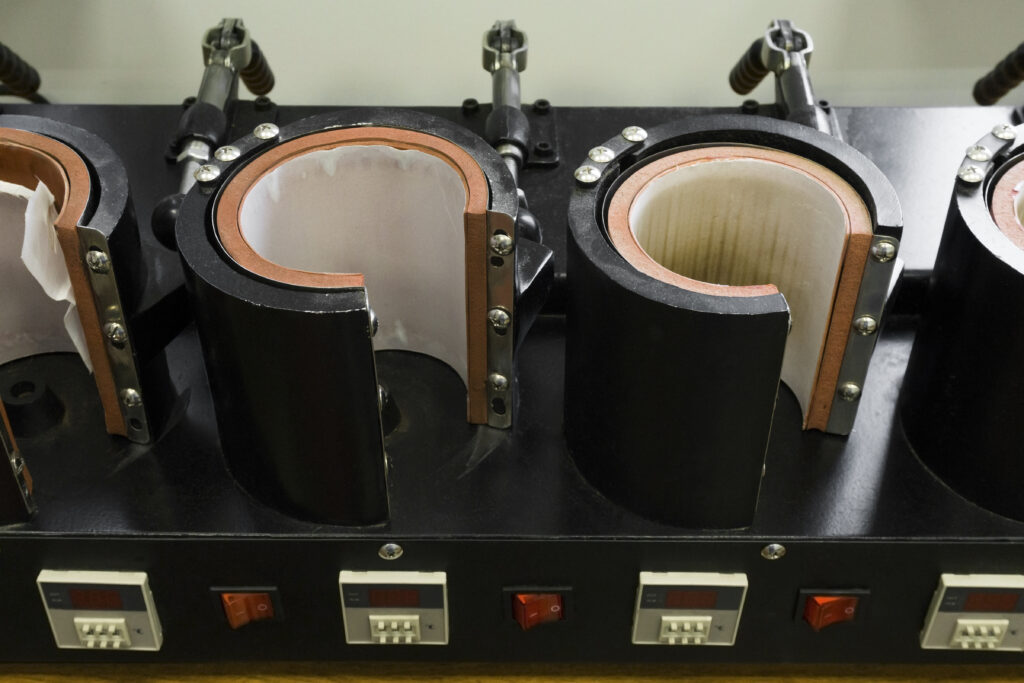 A number of things are suitable as carrier materials with such a polyester coating, which can be processed well as blanks for this type of printing and are very popular in the advertising sector. One problem is the high cost of special sublimation paper and sublimation ink. A smart alternative are ghost sublimation toners, which are easily used with a laser printer. Their advantage is, among other things, that there is no need for expensive special paper for transfer and normal copy paper is completely sufficient for transfer.
The desired motif is first printed on the paper with the laser printer, which is then placed on the polyester surface and heated under high pressure in the transfer press. At a minimum of 160 degrees Celsius up to 230 degrees Celsius and about two to three bars, the process described above takes place and the ink penetrates directly deep into the material. Blurring and blurring do not take place, which is why photorealistic motifs are particularly well suited for this method. The results are impressive and garments can also be stretched without the motif suffering.
Conclusion:
Whatever you decide to do with textile printing, with the described transfer printing processes you will find a suitable process for very different purposes and possibilities. Creative and handicraft enthusiasts, small businesses and self-employed people can celebrate successes and implement projects with the right utensils and materials, just like large companies and groups. The possibilities are limitless and allow a maximum of individuality and planning security.
---
Photo credits:
hunterbliss – stock.adobe.com
lunamarina – stock.adobe.com
Lora – stock.adobe.com