Meet: Ghost Pro White Toner Printer
We are proud to announce that we are adding a new Ghost White Toner printer to our product range!
Discover new ways to print white with Ghost Pro with the Xerox VersaLink® C8000W. Print with white toner and the colors cyan, magenta, yellow. The printer mixes the color black from CMY. That means: no need for swapping the black toner for white toner!
Normal laser printers use cyan, magenta, yellow and black to print on white paper. White is not a designated color for printing, which limits printing on colored and dark media. Ghost Pro with the Xerox VersaLink® C8000W provide you with a color printing system with white toner that allows you to print in white and color in one pass on dark paper. Ghost Pro prints white + CMYK using the white toner as an undercoat to print on colored paper.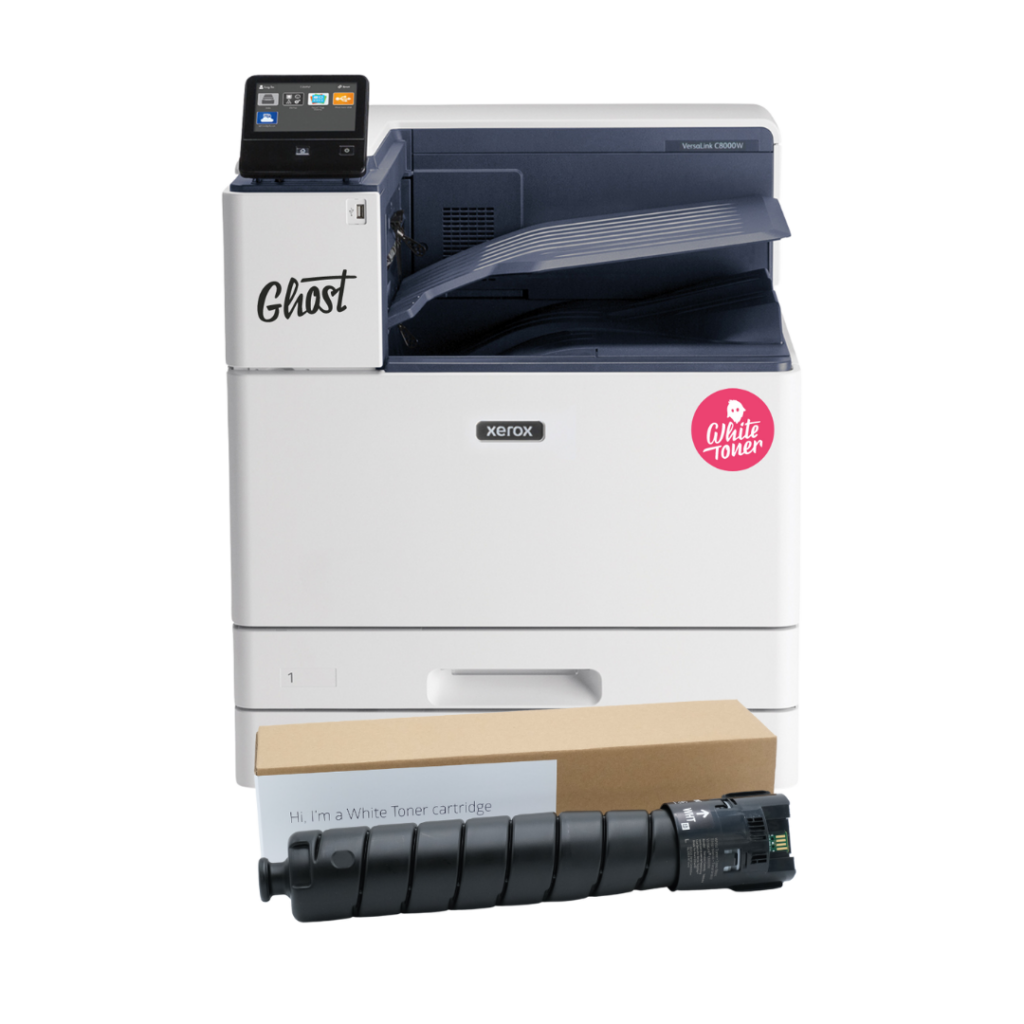 Ghost Pro is an SRA3 white toner & color laser printer for medium to large productions. First class paper handling, precise color management and above all the possibility to print white and color precisely on top of each other in one print run make Ghost Pro the perfect printer for paper lovers. In this video we will guide you step-by-step through the setup process. So you know exactly what to expect when you get Ghost Pro. With just a few simple steps, Ghost Pro is ready to use. Just follow the instructions in the video to start white printing with Ghost Pro. Ghost Pro is based on Xerox C8000W printing technology and meets the highest standards. The printer is currently only available in Germany and the EU.
You want to print colored, dark or even black papers, cards and envelopes?
Do you mainly print heavy grammages (>200g/m²) for your high-quality stationery?
Ghost Pro with Xerox VersaLink® C8000W enables you to print on grammages up to 300g/m². Ghost Pro is incredibly flexible and offers you the possibility to use many different media, papers and even transfer foils. This allows you to let your creativity loose by combining and using an infinite number of different textures, sizes and colors.
Print on any dark paper quick & easily:
Colored and dark papers in grammages up to 300g/m².
Exceptional formats from 88.9mm x 98.4mm up to SRA3
Banners in the format 320mm x 1,320.8mm (1.32m!)
Standard formats like A6, A5, A4, A3, C6, C5, Letter and many more
Window foils, tags, signs, labels and stickers
Use Transfer Media for even more printing options:
The Ghost Pro also offers the option of printing on transfer foils. It delivers good results when printing the Multitrans paper for transfer onto light mugs in CMYK and onto dark mugs in pure white. Textiles such as T-shirts, bags, etc. can also be printed in high-quality white with the Laser Dark A-Foil in combination with the B-Paper. Transfer prints in White+Color are not possible with the Ghost Pro due to the arrangement of the toner cartridges.
Transfer foils for the transfer of white toner onto e.g. dark textiles
Multitrans transfer paper for solid surfaces e.g. cups
Effect foils with gold, silver, metallic and other colors for transfer onto textiles
Tattoo Paper for temporary tattoos
DECAL foils for model design, candles and handicrafts
Ghost Pro is based on Xerox white+CMYK printing technology and opens up new possibilities for color printing. Print color and white in one pass on dark paper. When you print on colored paper using Xerox White+CMYK printing technology with white toner, white is printed first as an undertone. Then CMY colors are printed. This all happens in one print pass. Ghost Pro creates a composed black that is mixed from CMY, allowing black color to be printed without black toner. This printing process reproduces CMYK images with white underprint on dark material in an impressive quality. Printing with white text on dark and colored cards, papers and envelopes also produces outstanding results. This not only allows a faster process due to one single printing run, but also offers an endless number of possibilities for products such as posters, banners, etc. along with different material applications.
Ghost Pro is perfect if you are creating wedding cards, invitations, menu cards, gift cards, funeral cards, envelopes, menus or selected stationery products. As a designer, you have all the flexibility you need to customize your printing with white toner and even print photos from color media with precise accuracy. Or imagine creating interesting window foils for any season of the year. From cute easter bunny's, spooky Halloween ghosts window foils or Christmas stars and angels in just a snap.
With the Ghost Pro, you can bring creative ideas onto dark and colored media professionally with a white print. The intelligent printer driver offers you many presets, e.g. for black paper. This makes printing with white toner easy and possible for everyone.
Ghost Pro is perfect for stationery. It gives you the ability to use many different media and papers. With the Ghost Pro you can print on paper in A4, A3, SRA, C6, A5 and many other formats, even banners up to 1.32 meters long! This means your selection of papers, cards, envelopes, or banners leaves no wishes unfulfilled. Particularly since the Ghost Pro can print up to 300g/m² which makes printing of heavy grammages, and unusual formats done with ease.
Your advantages at a glance:
Cost effective
Prints on paper and cards up to 300g/m²
Prints paper sizes up to SRA3 and banners
Print in white & CMY in one print run
Optional RIP software available